Rituparna Sengupta describes meeting Priyanka Chopra's 'mishti' daughter Malti: 'Madhu aunty invited me'
Jan 05, 2023 07:34 AM IST
In an exclusive conversation with Hindustan Times, Rituparna Sengupta talked about her Bollywood stint, dating rumours with Prosenjit Chatterjee and her visit to Priyanka Chopra's LA house.
Actor Rituparna Sengupta is all set to explore Bollywood with a list of upcoming projects. Recently, she took some time out from her busy schedule for Hindustan Times and talked about how she felt when some of her Bollywood films couldn't attract audience. She also talked about rumours with co-star Prosenjit Chatterjee and her recent visit to Priyanka Chopra and Nick Jonas' house in the US.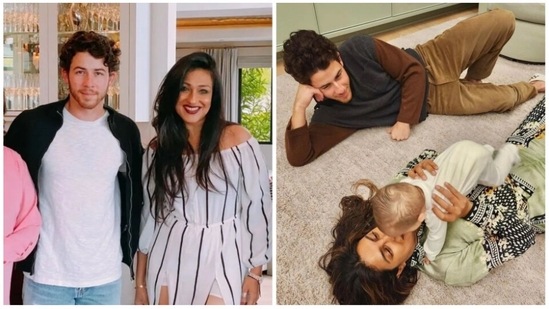 Also read: Rituparna Sengupta: Shah Rukh Khan is the other name of success
So, commercial films vs artsy film, what's your take?
I should not accept the division between these two films because I have done both. Commercial cinema has given me entry into the industry and my stardom. I have high regard for it and at the same time, I hope for all kinds of films which will explore me. I don't limit myself to commercials or art films. I am someone who can fit into any bracket. I am very approachable when it kinds to any films.
My recent Mahishasur Marddiniis a marriage between theatre and the big screen. So many films and even their song like Chokh Tule Dekho Na (Sasurbari Zindabad), Tapa Tini (Belashuru) have become such superhits. To me, those commercial elements are also important. Because I want more and more producers to invest and the industry to grow. I believe even meaning full cinema from Bengal can also create the same impact which is now being created by the south film industry. We are trying to experiment as well.
You are still remembered for your National Award-winning Shwet Patharer Thala, in 1992 and have over 100 films in your credit, across 7 languages. Not only in India, but you have strong fanbase in Bangladesh as well. What is the secret of keeping yourself relevant?
In one lifetime, I am leading so many roles (laughs). This is a huge takeaway. I feel like a runner of a marathon who is still running. I have a lot to do.
Does it get more challenging for a woman?
Staying relevant is important. Why not a woman should keep up her calibre beyond age and time? When they get into a new sphere in their life, and start a family it even gets more challenging. I believe people expect slightly more from women. If you are at home, you are expected to look after your kid, and take care of your parents.
My family is here in Singapore my work is in Mumbai, Kolkata or elsewhere in India. So I have to break my back to go and travel. I finish one assignment and then come here. Obviously, it takes a toll on me but I have chosen it. So I have to, I cannot complaint. You cannot calculate life and I am happy. When I come home I leave the starry part out.
You are open for your OTT debut with a Hindi project of your choice. Do you think your Bollywood stint is jinxed, as mentioned in reports?
I had a few very beautiful films of mine which couldn't release. I say this with a little regret, I had done a film of Manish Gupta with Sonu Sood and Om Puri. We had some production-level problems and later it got scrapped. I was also a part of Anjan Dutta's film featuring me, Kay Kay Menon, Sonali Kulkarni, Jimmy Shergill, Naseeruddin Shah and Sandhya Mridul, which couldn't release as well. Ajay Varma once contacted me for a Warner Bros film with Vinay Pathak. Even that movie couldn't release because of some production issue. It's just that we actors feel bad after working on films which fails to reach the audience. Maybe I could have got a better opportunity if I had these films.
Even in Dil Toh Baccha Hai Ji, I wish Madhur ji would have developed my track with Ajay Devgn. Obviously, I am happy with my Hindi Main, Meri Patni Aur Woh but I could have gotten more.
To expect something more is not wrong. Even Priyanka Chopra once said 'It's ok to be greedy about work. Much like her, I don't come from a legacy. I never had a mentor or a godfather. I come from a middle-class, educated family and films were a distant dream. I feel maybe I was too raw for Bollywood or maybe the time wasn't right.
Speaking of quoting Priyanka, you recently met her in Los Angeles. Tell me about your visit. How was the experience?
It was a very nice experience. Nick and Priyanka are very warm. It was Madhu aunty who invited me. I was travelling to LA so I just dropped in. It was so good to meet the entire family. I met the Jonas brothers. I couldn't stay longer. Aunty insisted on me having a meal but I had to go. Their bungalow is so beautiful.
She is an inspiration and she has done so much. Globally she has earned her name. To shift to a place like Hollywood and battle to establish herself is not a joke.
Did you meet Priyanka Chopra's daughter Malti Marie?
Yes, I met Malti for some time. She is very cute. I don't want to share much because it was a personal visit. She is mishti, all I can say.
Prosenjit Weds Rituparna is a new film which grabbed everyone's attention. Do you still meet people who confuse you and Prosenjit as a real life couple?
It's funny. This has remained in the hearts of the audience and it's a myth. We are only an onscreen couple.