Power theft: DGP to probe complaint against Gurgaon DCP office
The DHBVN had restored power to the DCP's office on August 7, 2014 after the pending amount of
₹
3.9 lakh was paid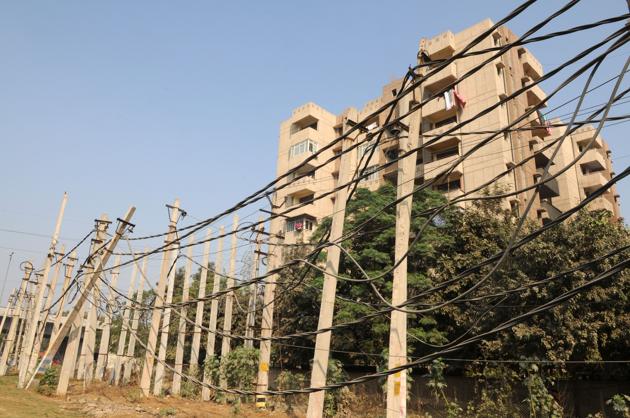 Updated on May 05, 2017 10:36 PM IST
The Haryana lokayukta has directed state director general of police (DGP) to probe a complaint against the office of Gurgaon DCP (east) for allegedly drawing electricity illegally from a nearby pole for over two years between April 2012 and August 2014.
During the period, the power supply of the DCP office was disconnected due to non-payment of arrears worth
₹3.9 lakh.
The lokayukta directive came on the complaint filed by a Gurgaon-based activist Harinder Dhingra, who filed a complaint taking cognisance of a Hindustan Times report of July 2014 titled 'Police turn power thieves in Gurgaon'.
In the order issued on April 17, the lokayukta asked the DGP to submit his report in the matter within a period of 30 days.
A report by Dakshin Haryana Bijli Vitran Nigam (DHBVN) in the matter was also sought earlier. The DHBVN said in its reply that they had restored the connection at the DCP office on August 7, 2014, after the pending amount of Rs 3.9 lakh was paid to them.
Read I http://www.hindustantimes.com/gurgaon/police-turn-power-thieves-in-gurgaon/story-EzIrGUCdtExZD7NK2rT1qJ.html
The DHBVN, however, submitted that they did not carry out a raid on the premises of DCP's office to detect unauthorised use of electricity as mentioned in the complaint.
The DHBVN stated that even at present, the office of the DCP owes ₹1 lakh to the utility. They said the amount has been paid despite the issuance of various memos and verbal reminders.
In response to an RTI query filed by Dhingra with the Gurgaon Police, it was revealed that the DCP's office used the load to run four air-conditioners, seven coolers, 18 fans and 22 tube lights. It was also stated that the police department had no record of the DCP's office using any alternate authentic source of power to run appliances during the 28-month time when their connection was cut.
Close Story