Ryan International School murder: Two top officials arrested in Gurgaon
Sep 12, 2017 07:37 AM IST
Bus conductor Ashok Kumar has been accused of killing an eight-year-old boy in the school toilet. Ryan Group's regional head and HR chief were sent to two-day police custody on Monday.
Two top officials of Ryan International School Group arrested after the murder of an eight-year-old Class 2 student were remanded to two-day police custody on Monday for further questioning.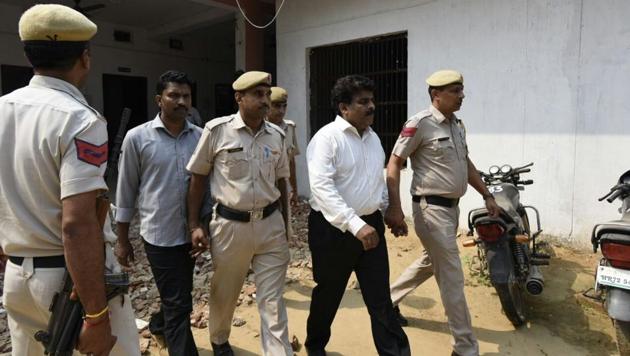 The parents want the school shut until a CBI inquiry is ordered and stricter legal provisions are slapped against the management for the murder on Friday. Ashok Kumar, a 42-year-old bus conductor, was arrested after publicly confessing to slitting the throat of the student who he tried to sexually abuse inside the toilet at Ryan International.
Francis Thomas, regional head of the Ryan group of institutions, and HR head Jeyus Thomas were arrested on Sunday night and booked under section 75 of the Juvenile Justice Act. Section 75 of the JJ Act deals with cruelty and crime against children under custody of someone and invites punishment of 5-10 years.
Police produced them at the Sohna court on Monday and demanded three-day remand but the court granted two-day custody. The police also added section 34 (common intention) of the IPC in the murder case.
Prosecution counsels demanded addition of section 201 of the IPC (causing disappearance of evidence of offence, or giving false information to screen offender). The police told the court that the school authorities tampered with the evidence at the crime spot.
Francis was also booked in connection with drowning of a boy in a water tank at Ryan international school in South Delhi's Vasant Kunj area. A victim Devansh Meena went missing on January 30 last year and his body was recovered the same day from a water tank in the school.
Delhi Police had made Francis the first accused as he was responsible for administration and civil work inside the school premises.
Gurgaon police arrested the duo on Sunday following pressure by protesting parents and opposition to act against the school for alleged lapses, which led to the murder of the class 2 student in the school toilet on Friday.
Acting principal of the school, Neerja Batra, who was suspended on Saturday, was rushed to a private hospital in Khandsa road on Monday after she complained of sudden pain in the chest during questioning by a Special Investigation Team of the police. The SIT is questioning three teachers including Batra.
Police said her blood pressure fluctuated suddenly and she was taken to a hospital. Batra claims that she took bleeding boy to a hospital in her car. Police sources said she might be arrested for negligence.
All Ryan group of schools in Gurgaon have been ordered to remain shut on Monday and Tuesday on the directions of the district administration. Security has been stepped up at the school.
Police had on Friday night arrested the accused, Ashok Kumar, a 42-year-old bus conductor. However, parents and others demanded action against school authorities, especially after police revealed that Kumar was fired from a private school in his village Ghamroj because of his suspicious behaviour.
Police also suspended inspector Arun Kumar, the SHO Sohna Sadar police station, in connection with the baton-charge on protesters which left several media persons injured and drew strong criticism from the opposition.
Gurgaon police spokesperson said the SHO was suspended after probe found that baton-charge was uncalled for and could have been avoided.
According to news agency PTI, fourteen police teams constituted to probe the case are questioning the school staff while an SIT team is headed to Mumbai to interrogate school CEO Ryan Pinto and director Albert Pinto.
Meanwhile, CEO of Ryan group of Institutions Ryan Pinto has reportedly applied for anticipatory bail in Bombay High Court, and court is likely to hear the matter on Tuesday.
Haryana education minister Ram Bilas Sharma on Sunday said action was being initiated against the school under section 75 of the Juvenile Justice Act and more sections could be added after the government received a report by three-member committee on loopholes on the part of the school on Monday.
Hundreds of parents tried to enter the private school in Bhondsi, near Gurgaon, prompting police to lathi-charge to disperse the crowd on Sunday. About a dozen people were detained for arson and rioting and many more wounded in the police action. Cameras of some photojournalists were also damaged in the clashes.
(With inputs from Leena Dhankhar, Ipsita Pati and PTI)