AIIMS refuses family's request to bank sperm of brain dead man
Aug 30, 2018 01:02 PM IST
Doctors got such a request for the first time, they didn't know what was to be done.
Doctors at the trauma centre of the All India Institute of Medical Sciences (AIIMS) received an unusual request from the family of a 22-year-old brain dead man they were counselling to agree to donate his organs. The family was willing, but insisted his sperm be retrieved and banked so it could be used for conception in the future.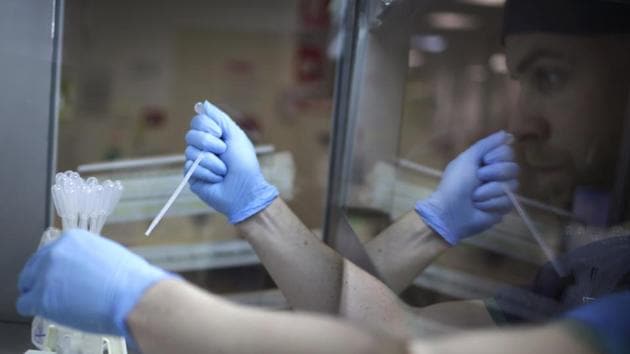 This put the doctors in a fix because there are no guidelines on sperm retrieval from a brain-dead man. "Doctors got such a request for the first time, they didn't know what was to be done. They consulted several departments within AIIMS, including reproductive biology and urology that handle infertility issues, but no one could offer clarity on the issue," said a person at the hospital, requesting anonymity.
A resident of Jaunti village near Kanjhawala in north-west Delhi, the man has nine older siblings, all sisters.
He met with road accident on August 19 in which he suffered a serious head injury.
"We did research online and found we could bank sperm but the doctors didn't agree. We lost our child, but this way we would have ensured he stayed with us. He was a young man and must have had good-quality sperm that we could have used ," said the man's father.
He had been at the AIIMS trauma centre since August 19 and was declared brain dead on August 25.
The issue was discussed across departments for three days. Finally, the patient died of a cardiac arrest in the neuro-intensive care unit of the hospital around 10am on Wednesday.
"There is a set protocol for sperm banking but there are no guidelines for retrieval from brain-dead patients, which is probably why doctors were reluctant about obliging their demand," said the person at the hospital.
The family is disappointed that doctors at AIIMS refused to grant their request.
"They wanted us to donate his organs, but when we asked them to give us his sperm for preservation, they refused. Why couldn't we take his sperm? We weren't asking for anything illegal," one of his sisters said on condition of anonymity.
Globally, the few recorded cases of sperm retrieval from a brain-dead man had the consent of the wife. "He was unmarried; we can't take a call until there are guidelines for sperm banking in brain dead patients," said Deepak Agrawal, a professor in the neurosurgery department at AIIMS.
The Indian Council of Medical Research (ICMR) does not have in place any India-specific guidelines on sperm-banking in the case of brain-dead patients.
"There are no ICMR guidelines on this and India's surrogacy rules are also very strict; it is unlikely they would have
been able to make use of the sperm as per their whims," said an ICMR official, requesting anonymity.