Avengers Endgame directors reveal Thor and Valkyrie almost kissed in awkward deleted scene
Updated on May 10, 2019 12:57 PM IST
Joe and Anthony Russo, directors of Avengers: Endgame have said in an interview that an awkward romantic moment between Thor and Valkyrie was deleted from the film.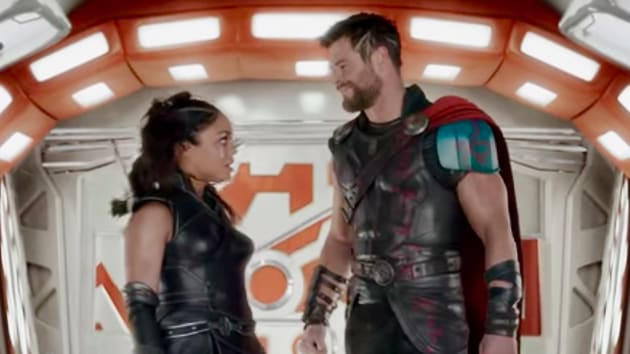 Avengers: Endgame directors Joe and Anthony Russo have revealed that a romantic moment between Thor and Valkyrie was cut for being awkward and mistimed. Now that their self-imposed spoiler ban has been lifted, the Russos have been discussing several plot points in interviews.
Talking to SiriusXM, Anthony Russo said that the scene towards the end of the film, in which Thor hands over the keys to Asgard to Valkyrie, had a brief romantic moment when Thor misjudges signals and goes in for a kiss. He said, "There's a funny beat. If you remember at the end of the film where Thor is saying goodbye to Valkyrie, and he's basically turning Asgard over to her. In the endings we felt like we wanted to keep it a little tight, so we were looking for some stuff to squeeze there. He had this beat with Valkryie where after he sort of turns over the kingdom to her, she puts her arm on his shoulder and he sort of starts to lean in for a kiss. And she goes, 'What are you doing?' And he goes, 'Oh I thought the touch..' She's like, 'Yeah, it's a goodbye touch. A tap I'm giving you.' It was a really funny beat but we cut it."
Thor has sort of been reinvented as a more comedic character post Thor: Ragnarok, and that newfound sense of fun carried forward into Endgame (save for the depressed alcoholic bits). The character's future also signals a continuation of this vibe, with him joining the Guardians of the Galaxy for more adventures.
Interestingly, the possibility of Thor and Valkyrie entering into a romantic relationship was in initial drafts of the Ragnarok script as well, but was cut out. Screenwriter Eric Pearson told Yahoo!, "You've got two really good-looking people who can fight and who'd probably be (good together) if the story went there, but it just didn't. It became more about the mutual respect, and also dealing with her PTSD. She's someone who's drowning her sorrows in the bottle, and I just thought that was such a cool thing that you don't often see in these movies: somebody dealing with extreme guilt and shame in a colourful, Taika Waititi-directed hilarious background."
Stars Chris Hemsworth and Tessa Thompson will reunite in the upcoming Men in Black International, a reboot of the popular sci-fi comedy series that originated with Will Smith and Tommy Lee Jones in the main roles. Thompson has also confirmed that Taika Waititi has pitched a Thor 4.
Follow @htshowbiz for more