Avengers Endgame tickets are now live in India, feeding frenzy erupts online: 'This is worse than tatkal', say Marvel fans
Updated on Apr 21, 2019 01:04 PM IST
Marvel fans reacted with relief and disappointment after opening day tickets for Avengers: Endgame were sold out in a matter of hours. See reactions, memes here.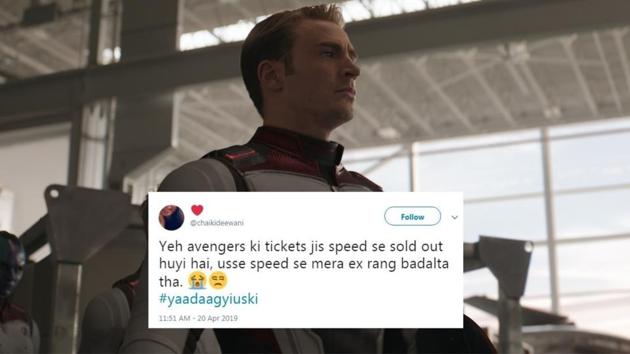 Tickets for Avengers: Endgame were made available for pre-booking across India at 12 am, Sunday, and early screenings were sold out within hours. Fans took to social media to share their excitement, and disappointment.
Shortly after being made available on online ticketing platforms such as BookMyShow and PayTM, fans reported that tickets for the hotly anticipated Marvel movie were sold out in major metropolitan cities such as Mumbai, New Delhi and Bangalore. However, additional screenings are expected to be added to keep up with the demand. On BookMyShow, over 1.2 million users have already listed themselves as 'interested' in watching the film.
A Marvel Movie Marathon, in which all 22 films in the Marvel Cinematic Universe will be screened back-to-back, culminating with Endgame, is also being organised in certain locations. The film's three hour plus runtime has certain drawbacks, though, mainly in limiting the number of screenings that can be squeezed into one day.
Also read: Road to Avengers Endgame: Robert Downey Jr's Iron Man is the sassy soul of MCU; a recap of his journey
Fans took to Twitter to either boast about having scored tickets, report online ticketing platforms crashing, alert other fans as to where the last remaining tickets were still available, or express disappointment at having missed out. "Its 3.30am in the morning and yes the tickets for Avengers: Endgame just started for IMAX: Wadala and i got mine booked. This has never happened before for any movie ever in India. Its crazy and Worth it," one fan wrote. "Avengers: Endgame tickets are finally on sale in India and are almost sold within hours. Ticket booking apps/websites have crashed," wrote another. Some fans even complained that despite an increase in prices, they weren't able to secure tickets.
You can check out more reactions here.
Early estimates peg the film's opening day numbers in India to be around the ₹40 crore mark. Avengers: Infinity War opened to ₹31 crore on day one, and made more than ₹100 crore in its opening weekend - an unprecedented achievement for a Hollywood film in India. If Endgame meets expectations, it will comfortably beat Kalank's opening day figures to become the biggest film of the year.
The film has already broken pre-release records in the US, according to online ticketing platforms such as Fandango and Atom Tickets, selling more tickets in the first 24 hours than previous Marvel films Captain Marvel and Infinity War combined, in addition to films such as Venom and Aquaman.
Avengers: Endgame stars Robert Downey Jr, Chris Evans, Chris Hemsworth, Mark Ruffalo, Scarlett Johansson and Jeremy Renner, among others. It will be released on April 26 in English, Hindi, Tamil and Telugu in India, in formats such as 2D, 3D, 4DX, 3D 4DX, IMAX 2D and IMAX 3D.
Follow @htshowbiz for more
Personalise your news feed. Follow trending topics