Christian Bale: I have very fond memories of my time in India and of my children experiencing it
Nov 28, 2018 04:12 PM IST
The Hollywood actor, perhaps most famous for playing Batman, says on this trip to India — to promote his web film, Mowgli, based on The Jungle Book by Rudyard Kipling — talks about how he'd like to spend more time here.
It wasn't surprising that Christian Bale was "lost" in Mumbai. The Hollywood star, after two straight days of media interviews on his new film, was having a little difficulty finding his way to his hotel room. We were lucky to get the concluding interview slot — the Oscar-winning actor, best known in pop culture for playing Batman in three films, but with a body of work far bigger than the superhero universe, was more relaxed and happy to chat... about India; about the Netflix production Mowgli (based on Rudyard Kipling's classic The Jungle Book); and about how he isn't a method actor, really. All that was left for him now was to locate his hotel room.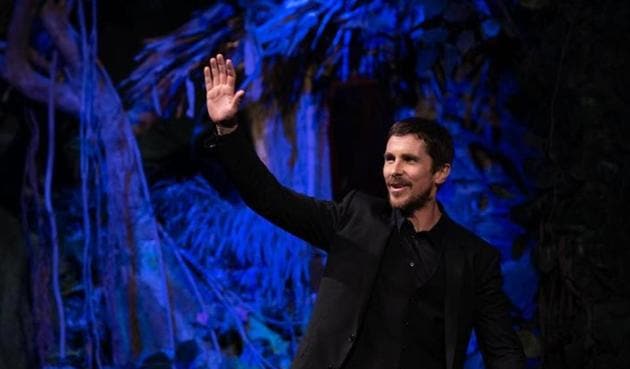 You've been to India quite a few times now. You even got your kids this time around. Tell us about your experiences here.
I have very fond memories of my time here and, of course, of my children experiencing it. I took them to a laughing yoga class in Jaipur recently; it was a really great experience. It has been really memorable [here]. But, [the visits to India] have been too brief and I really hope to come back. I hope that with the emergence of long form of filmmaking, it'll be lovely to think we can start integrating more countries and cultures, and actors from different countries within the same film and the same story. That'll be something magical.
Read| Hostiles movie review: The reason Christian Bale is the greatest Hollywood actor of his generation
People say that Mowgli is the darker version of the book. What made you say yes to it?
I disagree that this is not a happy film. There's a lot of joy in this film; there's joy in the fact that Mowgli is riding on the back of a panther (Bagheera) and running with the wolves and is howling at the moon — I guess everyone's fantasy. [But] there are deeper themes in the film. There are consequences that are akin to Kipling's original writings. In my mind, there's no competition with the other interpretations. I absolutely love the animation films and the recently released live-action film. I love Bare Necessities (the song in the 1967 animated Jungle Book) and Baloo. That's the beauty of Jungle Book — you can have so many vast interpretations.
How different was it to prepare for the role of Bagheera for this film?
It wasn't really very different. It was just how I prepare for other roles. Yes, there wasn't an intense commitment in terms of the time. I studied panthers and panther movements. I also learned a lot from Andy (Serkis, director), in terms of body positioning. The challenge is in the imagination. Often with a live film, there's a piece of Styrofoam, you're able to have something tangible. But with motion capture, and the way I did it, was that I was in a room full of boxes, which we'd jump on. That'd be replicated by the rocks and the trees we'd climb.
You're regarded as one of the finest method actors at present...
(Cuts in) People seem to think I'm a method actor. But I'm not one. I have not trained at all. Method acting requires training in the Stanislavski method (developed by the Russian theatre practitioner Konstantin Stanislavski). I've never read a book on that. I've never studied anything around that for a second. I make it all up as I go along. It's the uneducated method which is my method. A lot of it is trial and error (laughs).
Read| Christian Bale still hasn't seen The Dark Knight Rises (or Ben Affleck's Batman movies)
A lot of people seem to think that your portrayal of Batman set a benchmark for future actors portraying the dark knight. How fair do you think is it to compare the performances?
People will compare and you can't help that. Doesn't matter [if] it's fair or not. It's a very human thing to do. But I think, it's up to the actor to ignore all of that. I paid no attention to it whatsoever. I created it with Chris (Christopher Nolan, filmmaker), his direction, as though no one had performed Batman ever before, and that was the way we conceived it.
Interact with the author on Twitter/@sammysamarth