After Modi's Nepal visit, what changed and what did not
Updated on Aug 13, 2014 05:38 PM IST
Prime Minister Narendra Modi is known for speedy execution of projects. It is to be seen if what India has committed to doing in Nepal gets translated into reality. Modi returns to Nepal in November for the SAARC summit. The real challenge is to sustain the atmpspherics, and get rolling on the substance in the next four months.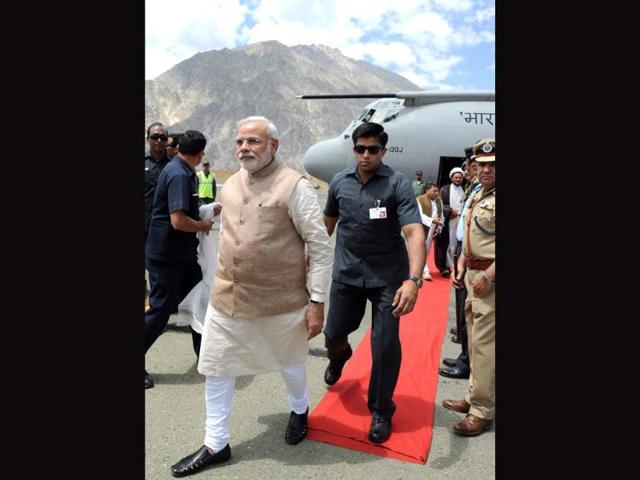 It has been over a week since Narendra Modi returned from Nepal, but the Nepali political class and press is still reeling from the Modi blitzkrieg. Editors are writing opeds analyzing the visit; political leaders continue to reflect on what it meant for bilateral relations; social media remains abuzz with a Twitter chat organised on the event only this Sunday; his public and private utterances continue to be dissected; and the overwhelming consensus is this marks a new moment, a possible beginning, but there is a long way to go.
It is perhaps a good time, now that the euphoria has somewhat dissipated, to think about about what has changed and what has not in the past ten days in Kathmandu-Delhi ties.

Read |
But for that it is first important to grasp deep insecurities among a section of Nepalis about Indian intentions and the country's own place in the world. Are we sovereign? Is India eyeing our water resources? Does it want to appropriate Lumbini? Does it seek to control our politics, irrespective of what the people want? Can Nepal ever get out of being a junior economic appendage to the subcontinental sized Indian state? Is India's emphasis on security a codeword to bypass Nepali institutions and laws and exercise unilateral control?
The highlight of Modi's visit was his speech in the Parliament, and this will be marked as a historic turning point – a possible game changer in Indo-Nepal ties – because Modi instinctively grasped these insecurities and sought to address them. He assured lawmakers, and the millions glued to television screens, that Nepal is sovereign; that it has to make its own decisions and India has no interest in intervening unless Nepalis seek support; that water resources are Nepal's own and it is up to Kathmandu to develop hydropower and sell it to India if it so desires; that Nepal is the land of Buddha.
All of this has gone a long way in eroding the anti-Indian streak in Nepali society, which is tapped and stoked by political forces who want to make nationalism their calling card. If they continue to engage in such politics, it is highly likely that they will find no resonance among their own base – and will get increasingly disconnected. A generational transformation in Nepal; the realisation that bandwagoning with India is the only way to ensure higher growth; a growing convergence among major forces on the broad principle that collaboration with India is essential are the structural changes that have occurred in Nepal – Modi's speech comes at such a moment.

Read |
Most revealingly, instead of sticking to the bureaucratic approach of flagging the use of the open border by third country nationals and security concerns it generates for Delhi, Modi used a positive formulation – by emphasizing on the Gurkha bonds. Almost a decade and a half back, in a conversation, the then PM Atal Bihari Vajpayee's Principal Secretary Brajesh Mishra flagged security concerns.
His counterpart, Hari Sharma who was G P Koirala's PS, turned to him and said, "Brajeshji, during Kargil, how many bodies came to your village? Four came to mine and six came to Ambassador Chakra Bastola's village." Mishra went silent. Modi has underlined this exemplary commitment Nepalis have displayed to securing India. Of course, it also pains many Nepali nationalists that their citizens are mercenaries but by expressing gratitude to them, instead of complaining about security cooperation, Modi did the right thing.
His comments on the constitution also offer us insights into what will be India's approach to internal politics. Delhi can neither stay disengaged entirely, nor does a policy of offering specific prescriptions and being hands-on work. It has adopted the sensible course of offering support for broad principles – a Federal Democratic Republican constitution, an inclusive constitution, a constitution that takes the long view – without getting entangled in specifics. By hailing the Maoist transformation, Modi reached out and acknowledged the great leap Prachanda and Baburam Bhattarai have taken in accepting the peaceful, constitutional, democratic path forward.
Modi also had a candid discussion with Madhesis. And it is somewhat ironical that India's closest friends are perhaps the least happy about the visit. He told them that he supported inclusion keeping their interests in mind; he told the CA to accommodate all aspirations with precisely this objective. But he also made it clear that Madhes ought not to have unrealistic expectations from another country.

Read |
India's relationship is with Kathmandu, and it is for Madhes to increase its stakes in Kathmandu. Delhi is not going to fight Madhes' battles. This is a moment of reckoning for Madhesi politics – and while it has disappointed some, it is an opportunity to focus on domestic strength, diversify sources of support, and recognize that the Madhesi movement – like the first Andolan of 2007 that forced Nepali elites to accept federalism – will have to be waged in the towns and villages of the Tarai, not in the power corridors of Delhi.
On the Nepali side, what changed was the overwhelmingly warm reception offered to Modi. Leaders across the spectrum, military generals, bureaucrats told this writer at an Indian embassy reception soon after the speech how Modi had changed the game. Rarely has India been received so warmly, Indian advice taken so kindly.
But what has not changed.
On the Indian side, we should look out for three features.
A common, and now almost clichéd, perception is that Delhi promises but does not deliver. Modi is known for speedy execution of projects. It is to be seen if what India has committed to doing in Nepal gets translated into reality. The only consolation is it does not treat Nepal any worse than it treats its own citizens, for as a former ambassador put it, the tardy implementation of projects is a secular trend – across geographies.
India's role in Nepali politics becomes critical and almost decisive when Nepal is going through a moment of internal political convulsion.
Modi has articulated a relatively hands off policy, but the second element to watch is what does Delhi do when there is a crisis – for instance, when power games are underway to change a government or the constitution writing hits a deadlock. Even if Delhi tries to stay away, will it be able to resist the temptation when Nepali actors of all hues lobby with India to step in and support their side in the polarized and fractured landscape? This, in a way, will be a test of whether the relationship will turn into a normal inter state relationship or whether India will remain an actor in internal events.

Analysis |
In Kathmandu, a popular narrative that has taken hold is that there was an absence of Indian political engagement, and assertion by bureaucrats and security and intelligence agencies. This is true. With no Indian PM visiting in 17 years, the lack of reciprocity was glaring. Manmohan Singh was briefed on Nepal, and met Nepali leaders when they visited, but the absence of a visit will be a blot. Modi has corrected this perception – and shown to Nepal how important the country is to the highest Indian executive. But it is a bit simplistic to suggest that more political attention will mean weakening of the bureaucracy. This is a misreading of how the Government of India works.
There will be greater political oversight, but it is the diplomats who will manage the day to day relationship; the agencies will continue to feed information and engage in covert operations. Even Modi's speech was an outcome of inputs from within the system – even though he packaged it like only a true mass politician could. To see the politician as opposed to the bureaucrat and spy, rather than the three as elements of the same system working towards the same broader national goal, would be a mistake. This interplay will be interesting to watch.
On the Nepali side, it is to be seen if parties shed their opportunistic politics of flirting with ultra nationalism. Two power related agreements could not be signed because an ally in the ruling coalition developed cold feet; the mainstream Maoists were not too keen either because they have a working alliance with a more radical faction averse to deeper ties with India. The problem is that till Nepali politics remains as dysfunctional and fragmented as it is today, it will be difficult to translate the goodwill into action.
Modi returns to Nepal – with a visit to Janakpur and Lumbini – in November for the SAARC summit. The real challenge is to sustain the atmpspherics, and get rolling on the substance in the next four months.