Virat Kohli hits out at media for spreading rumours, says no issues with coach Anil Kumble
Jun 03, 2017 07:31 PM IST
India play Pakistan in a group B match of the ICC Champions Trophy in Birmingham on Sunday. Virat Kohli, Indian cricket team captain, spoke on the mouth-watering clash and his relationship with Indian cricket team coach Anil Kumble
Defending champions India will be aiming to shut out off-field controversies when they lock horns with arch-rivals Pakistan in their ICC Champions Trophy opener -- a marquee contest where tension and drama is never in short supply. (ICC CHAMPIONS TROPHY FULL COVERAGE | SA vs SL LIVE)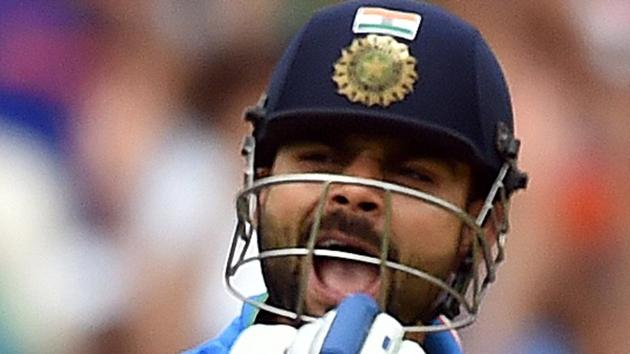 One of the finest fast bowlers of current times, Mohammed Amir would be pitted against the talismanic Virat Kohli in what could turn out to be a battle primarily between India's vaunted batting line-up and against Pakistan's potent bowling attack.
A line-up that boasts of Virat Kohli, Rohit Sharma, Shikhar Dhawan, Yuvraj Singh and Mahendra Singh Dhoni can be intimidating for any bowling attack. Get live updates of Virat Kohli's press conference ahead of Sunday's India vs Pakistan group B game at Edgbaston.
6:05 pm: We are hundred per cent motivated for the Pakistan game.
6:06 pm: Lot of speculation and things being written about me and Anil Kumble. There is a process of selecting the coach and there are no issues. I honestly don't know anything about this. Team is focused on Champions Trophy.
6:07 pm: When you are not part of the dressing room, it doesn't matter what they say. It's our livelihood to play cricket and that's what we are going to do.
6:08 pm: All kinds of possibilities to pick the team. Depends on the conditions. Will pick our best bowling attack. We are confident as a team. Great intensity in the team. Can't comment on the team.
6:10 pm: I am normal human being. Whether I am captain or no captain, I will take the batting through. Captaincy gives me more responsibility. I am under no pressure and I don't look at situation where I put myself under pressure. My mindset remains the same in all games.
6: 11 pm: As a team, Pakistan can surprise you. All you can do is focus on your skills. You should be good enough to handle a cricket ball, no matter whom you play. Have to come out on top.
6: 12 pm: Pakistan can beat anyone on their day. We just have to play good cricket.
6: 13 pm: In shorter formats, no total is safe. Chasing 300 has become easy. You still have to bowl well and defend a total. Application is key. Nothing safe in this age.
6:14 pm: Priceless to have MS Dhoni's thoughts in the team. I keep seeking his advice every now and then. More often than not we are thinking on similar lines. Both of us want to win a match.
6:16 pm: Working with Kumble has been good. The process of selecting a new coach will take its own course.
6:17 pm: We lack patience and make speculations from far. I don't focus on things that don't matter to me. People write wrong things and then do not own up.
6: 18 pm: There are fights at home. Difference of opinion is common anywhere. I will just request that when you don't have knowledge on anything, please do not spread rumours. Let us focus on cricket.