Akali Dal's Badal announces alliance with BSP for Punjab assembly elections
SAD president Sukhbir Singh Badal said the coming together of both parties was a "new day in politics of Punjab".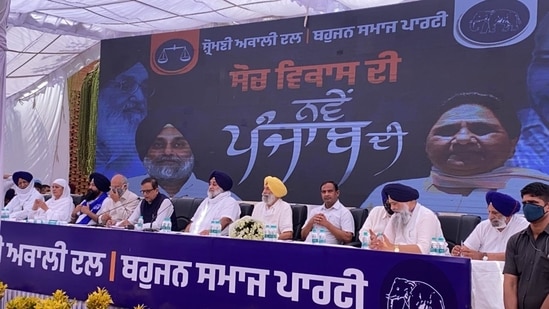 Updated on Jun 12, 2021 01:58 PM IST
The Shiromani Akali Dal's (SAD's) president Sukhbir Singh on Saturday announced his party will form an alliance with the Mayawati-led Bahujan Samaj Party (BSP) for the Punjab assembly elections, which will be held next year, and said the coming together of both parties was a "new day in politics".
"Today is a historic day... A big turn in Punjab's politics," Badal said in a joint press conference.
The decision to tie up with the BSP was taken at the SAD's core committee meeting. In the coalition set up, Mayawati-led BSP will contest the elections from 20 seats out of 117 total seats.
Also read | SAD quits NDA: How farm bills ended friendship between oldest allies
Among the high-profile seats, the BSP will be fighting from Kartarpur, Jalandhar West, Jalandhar North, Ludhiana north, Pathankot, Amritsar central, Amritsar north and Mohali. The party will also fight from Phagwara, Hoshiarpur city, Tanda, Dasuya, Chamkaur Sahib, Bassi Patahana, Mehal Kalan, Nawanshahr, Sujanpur, Bhoa, Anandpur Sahib and Payal seats.
Punjab is among the seven states, including Goa, Manipur, Uttar Pradesh, Uttarakhand, Himachal Pradesh and Gujarat, scheduled to hold assembly elections next year.
The BSP general secretary Satish Mishra reached Chandigarh ahead of the meeting. Last week, Badal announced the Akali Dal's willingness for a pre-poll alliance with parties other than the Congress, Bharatiya Janata Party (BJP) and Aam Aadmi Party (AAP). "We cannot align with these parties. We will form alliances and we are open to others. No chance to go with the BJP at all," Badal said.
Also read | SAD-NDA: Farm bill was final nail in the coffin. Here's a look at other reasons for split
In a high-voltage political split, the SAD pulled out of the BJP-led National Democratic Alliance (NDA) at the Centre last year in September over the three contentious farm bills, ending a decades-long partnership marked by unflinching loyalty. After the split, SAD's Harsimrat Kaur Badal resigned as the Union minister of food processing industries.
The SAD sought not to bring the bills in Parliament till "all reservations" expressed by farmers are "duly addressed".
Close Story