Joshimath sinking? CM Dhami orders urgent steps at high-level meeting: Top 5
Jan 06, 2023 08:02 PM IST
Joshimath: More than 500 houses in the area have developed cracks.
A big temporary rehabilitation centre should be set up immediately at a safe place in Joshimath, Uttarakhand Chief Minister Pushkar Dhami order at a high-level meeting on Friday amid concerns being raised over the cracks that have developed in hundreds of homes in the area. Danger zone should be vacated immediately and the disaster control room should be activated, the Chief Minister further instructed during the high-level meeting, news agency ANI reported. The meeting took place following a wave of demonstrations after locals had blocked the Badrinath Highway on Thursday morning against the land subsidence. The government has also announced that ₹4,000 will be given to all affected families for next six months from the Chief Minister's relief fund.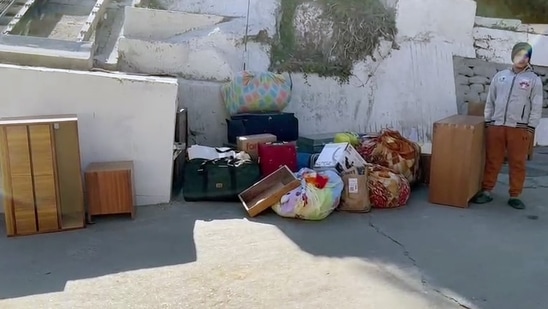 Here are major points on the Joshimath situation:
1) As a measure of precaution, a team of NDRF (National Disaster Response Force) is reported to have been deployed in Joshimath. "It is important to stay alert as the area witnesses land subsidence," LN Mishra, Chief Development Officer, Chamoli, said.
2) At the high-level meeting with the Chief Minister in Dehradun, Uttarakhand Chief Secretary, officials of the Disaster, Irrigation and Home Department, Commissioner Garhwal Division and District Magistrate Chamoli were said to be in attendance.
3) A door-to-door survey has also been reportedly conducted for the houses hit by land subsidence. "We have been reviewing the situation at the ground level," Sushil Kumar, Divisional Commissioner of Garhwal, told ANI. "We are trying to take speedy action in the matter."
4) The Chief Minister is set to visit Joshimath on Saturday. Shocking visuals, sparking huge concerns, that show buildings tilted have emerged from the area.
5) On Thursday, the state government had halted construction works in and around Joshimath, including projects by the Border Roads Organisation (BRO) and the National Thermal Power Corporation (NTPC) amid protests, HT had reported. "At present, 561 houses have developed cracks and accordingly we have made arrangements for temporary shelters by earmarking over 70 rooms including 7 halls and one auditorium with a capacity of 385 persons for providing temporary shelter. A team from the disaster management authority has reached each ward to assess any further damage by keeping a close watch on the situation, said Chamoli district magistrate (DM) Himanshu Khurana.
Locals say Joshimath - situated at an altitude of 6,150 feet - is sinking. Haphazard construction on fragile mountain terrains is believed to a key reason behind worrying developments.
Topics