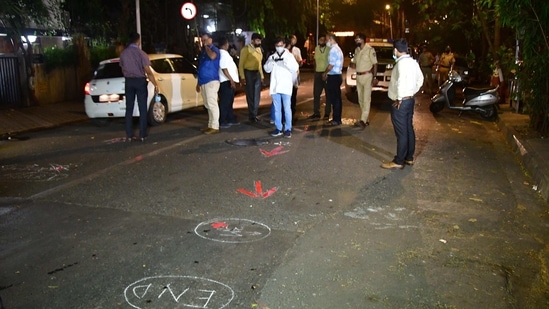 Centre hands Hiran murder case to NIA
New Delhi: The Centre on Saturday suo motu handed over the probe into Thane businessman Mansukh Hiran's death to the National Investigation Agency (NIA), which has been probing the SUV laden with explosives found outside industrialist Mukesh Ambani's residence last month
By Neeraj Chauhan
, Hindustan Times, Mumbai
UPDATED ON MAR 21, 2021 05:50 AM IST
The Centre on Saturday suo motu handed over the probe into Thane businessman Mansukh Hiran's death to the National Investigation Agency (NIA), which has been probing the SUV laden with explosives found outside industrialist Mukesh Ambani's residence last month.
The NIA will take over the case from the Maharashtra Anti-Terrorism Squad (ATS), which has been investigating the possible murder of Hiran, a 48-year-old Thane-based auto spare parts dealer, who is linked to the Scorpio that was found with 20 loose gelatin sticks, and a threatening letter addressed to the Ambanis, outside their Antilia residence on February 25.
NIA officials will take over case files including the post mortem report of Hiran after re-registering the FIR filed by the ATS on March 7 against unknown persons for the charge of murder. The NIA arrested suspended police officer Sachin Vaze on March 13 for purportedly planting the explosives in the Scorpio. The ATS has also questioned Vaze over his role in Hiran's death after it came to light through the statement of Hiran's wife, Vimla, that the two knew each other.
The ATS on Saturday sought Vaze's custody in the murder investigation, but the NIA special court scheduled the hearing to March 25, when his custody with the NIA ends.
The ministry of home affairs (MHA) used its power under Section 8 of the NIA Act, which says that any connected offence related to a scheduled offence already under investigation, in which the suspect is same, can also be taken over by the central anti-terror agency.
Shiv Sena leader Sanjay Raut on Saturday said the NIA taking over the probe into Hiran's death was not a setback to the Mumbai police or the Maharashtra government. "There was no need for the NIA to take up the probe into the explosives-laden SUV and Mansukh Hiran case. However, the Centre is looking for opportunities to see how the MVA government can be put in a spot. You can bring the CIA or KGB...It makes no difference...," he added.
With inputs from Manish K Pathak and Faisal Tandel
Close