Chinese Prez pledges billions of dollars for new Silk Road, 'snubs' absentee India
Updated on May 16, 2017 07:49 PM IST
The Chinese President, who is positioning himself as a global leader and chief advocate for free trade, seemed to have snubbed India when he said the belt and road initiative respected "territorial integrity".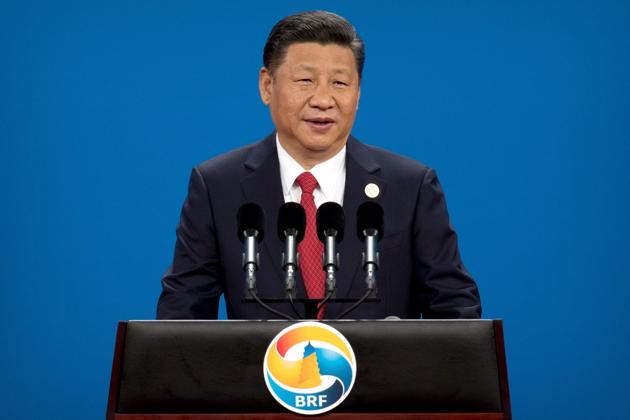 Beijing, Hindustan Times |
Sutirtho Patranobis
Chinese President Xi Jinping on Sunday pledged to pump billions of dollars into the new Silk Road initiative as he described his signature foreign policy push as inclusive, one that should not be held hostage to old rivalries and power games.
China is hosting at least 29 heads of state, including Russian President Vladimir Putin and Pakistan prime minister Nawaz Sharif, for a two-day "Belt and Road" conference which India has chosen to give a miss.
All of India's neighbours, except Bhutan, sent high-level delegations to the event, with Sri Lanka represented by Prime Minister Ranil Wickremesinghe.
Xi pledged a major funding boost to the ambitious project, including an extra 100 billion yuan ($14.50 billion) into the existing Silk Road Fund, 380 billion yuan in loans from two policy banks and 60 billion yuan in aid to developing countries and international bodies in countries along the new trade routes. Xi said China would encourage financial institutions to expand their overseas yuan fund businesses to the tune of 300 billion yuan. He did not give a time frame for the new loans, aid and funding pledged on Sunday.
"We should build an open platform of cooperation and uphold and grow an open world economy," Xi said in his inaugural address to the Belt and Road Forum (BRF) as he also highlighted the importance of the China-Pakistan Economic Corridor (CPEC), the reason New Delhi has stayed away from Beijing's most important diplomatic event of the year.
The Chinese President, who is positioning himself as a global leader and chief advocate for free trade, seemed to have snubbed India when he said the belt and road initiative respected "territorial integrity".
"All countries should respect each other's sovereignty, dignity and territorial integrity, each other's development paths and social systems, and each other's core interests and major concerns," Xi told the gathering at the sprawling China Convention Centre.
The CPEC, a cluster of road, rail and energy projects, will connect Pakistan's southern Gwadar port city on the Arabian Sea and Kashgar in China's far-western western Xinjiang province.
India has reservations about the project as it passes through Pakistan-Occupied-Kashmir, which New Delhi says challenges its sovereignty by lending legitimacy to Pakistan's claim over the territory.
"...No country can accept a project that ignores its core concerns on sovereignty and territorial integrity," ministry of external affairs spokesperson Gopal Baglay said on Saturday night.
If there was any doubt about the importance of the CPEC in the One Belt, One Road plan, or Belt Road Initiative (BRI), it was put rest in a policy document released and distributed on the side lines of the BRF.
"The corridor (CPEC) is a flagship program of the BRI. The governments of both China and Pakistan attach great importance to it and have actively started preparation for long-term plans," the document titled 'Building the Belt and Road: Concept, Practice and China's contribution' said with a rare mention of "flagship" in a Chinese official document.
The other BRI projects mentioned in the document were not bestowed the honour.
Xi described CPEC as a "multi-dimensional infrastructure network".
"What we hope to create is a big family of harmonious co-existence," he said. "In advancing the Belt and Road, we will not retread the old path of games between foes. Instead we will create a new model of cooperation and mutual benefit."
In his speech at the inaugural BRF session, Pakistan Prime Minister Sharif said the CPEC was a "core" project of the BRI.
"In fact, it has been rightly called its flagship because it aims to connect the neighbourhoods of East and West Asia. CPEC makes Pakistan both a conduit and destination for cross-regional investment and trade," Sharif said.
He indicated what the Chinese have been saying – India is welcome to join the CPEC.
"Let me make it very clear that CPEC is an economic undertaking open to all countries in the region. It has no geographical boundaries," he said.
"It must not be politicised. In implementing this Corridor, we are not striving to merely leverage geography for economic prosperity, we are also trying to build a peaceful, connected and caring neighbourhood. It is time we transcend our differences, resolve conflicts through dialogue and diplomacy, and leave a legacy of peace for future generations," Sharif said.
Sharif added: "Unprecedented economic, social and cultural benefits will accrue from the CPEC – not just for the people of Pakistan, but also for the people of the entire region…It is producing new entrepreneurs, creating new jobs and businesses, and attracting international investment."
Under the BRI, China plans to revive ancient trade routes from Asia to Europe and Africa involves a network of rail, road and sea links.
The initiative is said to have won the support of more than 100 countries and international organisations, of which at least 40 have signed cooperation agreements with China. Nepal is the latest country to jump on to the bandwagon. It signed a deal with China on Friday.
The Gawadar port found a mention as Xi shared details of the projects undertaken to connect member countries.
"Some regions along the ancient Silk Road used to be a land of milk and honey. Yet today, these places are often associated with conflict, turbulence, crisis and challenge. Such state of affairs should not be allowed to continue," he said.
Several texts describe India as the land of milk and honey but the description is used for other countries as well.
China's plan to revive ancient trade routes from Asia to Europe and Africa involves a network of rail, road and sea links.
On the surface, the BRI floated by Xi in 2013 is based on three principles broadly explained as – Gong Shang (negotiate/talk), Gong Jian (construct/build) and Gong Xiang (share good results).
Its stated aims include improved infrastructure, trade, capital flow and people-to-people exchanges.
But, diplomats privately say all the lofty talk is towards one end – increase China's influence in South Asia and world and play on India's disadvantages in the region.
Many Chinese academics are of the view that India not joining BRI has little to do with its reservations about CPEC. They say New Delhi is wary of China's growing global clout and doesn't want to play second fiddle to Beijing.
"India's concerns about BRI are not due to its concerns about CPEC. It is about whether India would like to help China to build a new world order and regional order," Hu Shisheng, a South Asia expert at the China Institutes of Contemporary International Relations, said.
For Indian strategists and nationalists, BRI was Beijing's grand strategy to build a China-dominated world order. Indian strategists, he said, would like New Delhi to support the West- (the US) dominated system.
"India's absence at the Forum only showed that India doesn't like China's status in today's world, doesn't accept China's high-profile in the international arena," Long Xingchun, director of the Center for Indian Studies at China West Normal University, said.
International relations scholar Dai Yonghong said he was unable to understand India's position on the BRI, especially its refusal to officially acknowledge it. It indicated India's unease with China's rise.
"But the fact is that so far the Indian government hasn't officially positively responded to the BRI due to the so-called concerns over the CPEC," Dai said.
New Delhi was part of the Asian Infrastructure Investment Bank and Bangladesh, China, India, Myanmar (BCIM)-Economic Corridor, which were part of the BRI but there was no positive official response to the forum, Dai said.
Dai didn't mention that the BCIM-EC predated the BRI and when the investment bank was set up, founding members –including India, weren't aware of its links to the bigger Silk Road plan.
(With agency inputs)
Personalise your news feed. Follow trending topics