'Congress's OROP is Only Rahul Only Priyanka': Amit Shah in Una
Hindustan Times, Shimla |
HT Correspondent
Jan 28, 2019 05:56 PM IST
The BJP's president Amit Shah coined a new definition for the abbreviation OROP to launch an attack on the Congress' Rahul Gandhi and Priyanka Gandhi Vadra in Himachal Pradesh's Una on Monday.
BJP president Amit Shah on Monday cornered Congress chief Rahul Gandhi and it newly-appointed general secretary in eastern Uttar Pradesh Priyanka Gandhi Vadra by revising OROP's abbreviation in Himachal Pradesh's Una to put across his point against the main opposition party.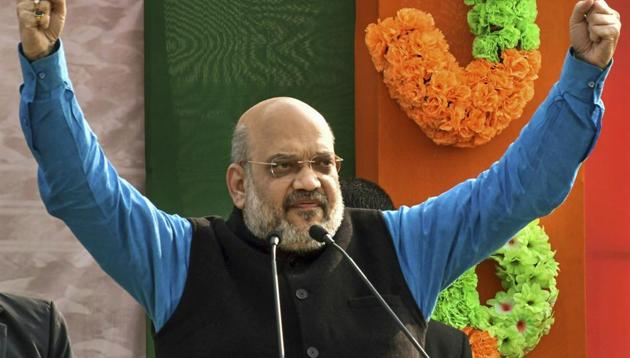 Amit Shah is in Una town to address the Panna Pramukh Sammelan, a grassroots-level convention, organised to brace the party's cadres ahead of the Lok Sabha elections to be held later this year.
"For over 70 years, no one cared about the soldier. When the Narendra Modi government came to power, we introduced One Rank, One Pension (OROP). However, the Congress also follows OROP, which is Only Rahul Only Priyanka," Amit Shah said.
He was referring to the One Rank, One Pension programme to equalise pension payments for retired military personnel in the country to take a jab at Congress' dynastic politics after Priyanka Gandhi was entrusted with the job last week to shore up the grand old party's chances in the politically-crucial Uttar Pradesh. His Bharatiya Janata Party has also described the move as the Congress' acceptance of Rahul Gandhi's failure as its leader.
Watch: 'Only Rahul only Priyanka' is Congress' OROP: Amit Shah
Amit Shah continued his attack on the main opposition party accusing it of not doing enough for the people when it was in power.
"Even today, the Congress president in his speeches brings up the issue of poverty. However, I want to ask Rahul baba, what did the Congress governments do for 55 years?" He asked.
"It's only us who are taking measures for the eradication of poverty. They couldn't even provide a gas cylinder to every house in the country," Shah said.
Also read | Rahul Gandhi took right decision: Akhilesh on Priyanka's political debut
The BJP president also enumerated the programmes launched by the Modi government, which he said benefited millions of people in the country.
"In four and a half years, the BJP government provided 50 crore people with health facilities, eight crore people with toilets, and has helped over 2.5 crore people to construct their houses," he said.
Amit Shah said the country needs a government which is strong and not a helpless one. "We need a majboot sarkar, not a majboor sarkar. We need a majboot sarkar that can give Pakistan a hard time for killing our soldiers," he said.
He also accused Rahul Gandhi of encouraging those who are anti-national as he raked the issue of the event that was held on February 9, 2016, in New Delhi's Jawaharlal Nehru University (JNU) to protest the hanging of Parliament attack convict Afzal Guru.
"Rahul Gandhi JNU mein desh drohi naare lagane walo ki peeth thap thapane jaate hai. Rahul baba, mere neta ko jitni gaali deni hai dedo, lekin kaan khol ke sun lo, agar Bharat maa ke tukde karne ki baat ki to sarkar kisi ko nahi bakshegi, iski jagah salankho k pichhe hai (Rahul Gandhi encourages those who shout anti-national slogans. Rahul baba, you can abuse my leader (Narendra Modi) as much as he can but listen carefully the government won't spare anyone who talks about dividing the country. They deserve a place behind bars)," he said.
"Modi ji promotes Make in India, while Rahul is busy with 'Break in India."
This is third Panna Pramukh Sammelan held ahead of the general elections in the hill state. Union home minister Rajnath addressed a Panna Pramukh Sammelan in Mandi in November last year and Union health minister Jagat Prakash Nadda presided over one in Solan last month.
Under the Panna Pramukh model, the party appoints a pramukh or prabhari who is given a list or panna, page in Hindi, with the names of 8-12 families. Each pramukh or chief is asked to focus on these families to create a larger vote base for the party.
The model was first used in Gujarat when the BJP rode to power for three successive terms. It was successfully implemented in the Lok Sabha elections in 2014 by the Rashtriya Swayamsevak Sangh, the party ideological mentor.
Since then, the BJP has repeatedly gone back to this model to win assembly elections in other states. It has become a tool for disseminating political messages, voter mobilisation, inter-personal contact with voters and, lastly, direct feedback from the ground.
The BJP's top brass including, former chief ministers Shanta Kumar and Prem Kumar Dhumal and the party's state unit chief Satpal Singh Satti were also present at the Sammelan. Its organisational secretary Ram Lal was also there.
Lok Sabha member from Hamirpur Anurag Thakur hit out at the Congress, saying that it was unnecessarily indulging in mudslinging. "Our party has given a corruption-free government to the people of India, " he said in his address earlier.
Former chief minister Prem Kumar Dhumal said the policies and programmes of the Narendra Modi-led government were being lauded the world over.
"Trump's administration too praised the work of the Modi government," Dhumal said.
Like Thakur, Dhumal also criticised the Congress and said that the party was a divided house in Himachal.
Former chief minister Shanta Kumar urged the cadres to ready themselves for elections.
"Elections are just like a war. All workers need to work hard for the party's victory in Himachal," he said.
Himachal Pradesh has four parliamentary seats of Shimla, Solan, Hamirpur and Mandi, and the Bharatiya Janata Party won all of them in the last Lok Sabha election in 2014.
Also read | 'Zero plus zero results in zero': Yogi Adityanath on Priyanka Gandhi's political debut