'Darkness & hopelessness': Major Pakistani cities sans power. But for how long?
Jan 23, 2023 01:59 PM IST
Pakistan lacks resources to run its oil and gas powered plants and the sector is heavily in debt, and inadequate investment in infrastructure and power lines has resulted in the National Grid suffering frequent breakdowns.
Already struggling with political and economic crises, a cash-strapped Pakistan woke up on Monday with a major power outage across multiple cities due to a fault in transmission lines. Karachi, Lahore, Islamabad, Quetta and other major urban centres of Pakistan were left without electricity. This is the second major power outage in the neighbouring country within four months while it deals with the energy crisis and high energy costs.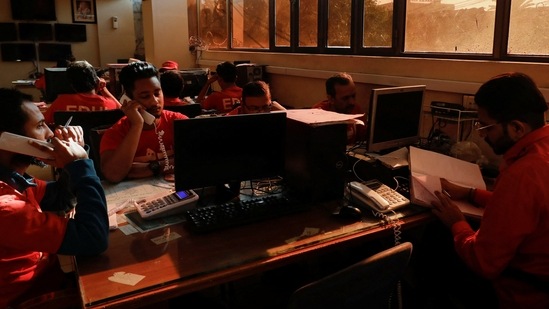 According to local media reports, the power supply to 117 grid stations of Islamabad Electricity Supply Company (IESCO) has been suspended. IESCO provides electricity to Islamabad, Rawalpindi, Attock, Jhelum, Chakwal and parts of Pakistan-occupied Kashmir (PoK).
What caused the power outage?
Pakistan's ministry of energy said in a statement that the frequency of the national grid went down at 7:34am (local time) which caused a "widespread breakdown" in the power system. The ministry later said that the restoration of grid stations was started from Warsak and a "limited number of grids" of Islamabad Supply Company and Peshawar Supply Company were restored.
Pakistan's energy minister Khurram Dastgir, however, maintained that the breakdown was not "major". In an interview with Geo News, Dastgir explained that power generation systems are temporarily closed at night during winter due to a reduction in electricity demand. However, when the systems were turned on in the morning, he said, frequency variation and voltage fluctuation were observed in the south power generating units shutting down one by one.
How long will it take to restore electricity supply?
The energy minister said the restoration of grid stations in Peshawar and Islamabad had begun and assured that the power will be fully restored across the country within the next 12 hours.
'Darkness & hopelessness'
Former MP Bushra Gohar said that darkness and hopelessness have spread to "mainstream Pakistan" since many areas in Pakhtunkhwa have had unannounced power outages for days.
"Darkness & hopelessness have spread to the mainstream Pakistan as well - Many areas in #Pakhtunkhwa have unannounced power outages & poor or no internet connections for days - State of a nuclear insecure security State - #GayaPakistan" she tweeted.