'Good that he was caught' : Wife of Delhi 'serial rapist' doesn't want to lament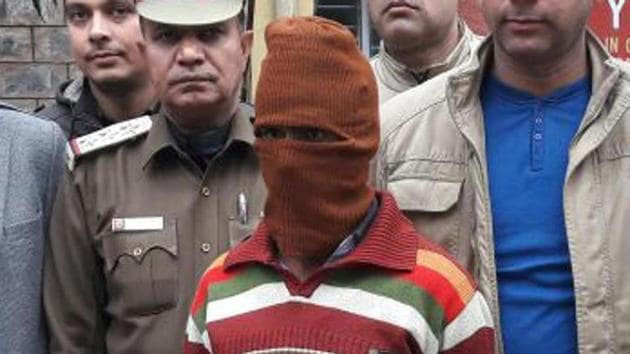 Updated on Jan 17, 2017 11:42 AM IST
Rudrapur, Hindustan Times |
Chandan Kumar
The wife of alleged paedophile Sunil Rastogi doesn't want to see him again.
Rastogi, a 38-year-old tailor from Rudrapur in Uttarakhand, was arrested in the national capital on Saturday for allegedly sexually assaulting young girls, mostly students he lured outside schools and in slum clusters. The youngest victim is said to be just seven years old.
Wife Bhawna, who suffers from a spine ailment and is bedridden, told Hindustan Times at the family's rented home in the foothills town on Monday that she had ignored his behaviour despite witnessing him inappropriately touching young girls.
Read | Delhi 'serial rapist' superstitious: Wore red jacket, jeans before abusing girls
Lying on a cot, she said: "Achcha hua pakda gaya, uske jane ka hamein koi gham nahi. Meri aisi haalat hai, upar se wo kuch nahi karta tha (Good that he has been caught ... we don't lament that he is gone. Despite my miserable state, he would hardly care)."
She pointed towards her hunched back from a protruded spine, a deformity that developed after she delivered her third child.
Rastogi, a father of five, seldom interacted with his neighbours and loved watching crime serials on television till late into the night. But he was good at his work, according to the shop owner who employed him.
Bhawna said her husband has been in and out of prison more than 40 times in the past 15 years, sometimes for molesting girls, but she never imagined he would have raped minor girls.
The last time he came out of prison, the family decided to move to Bilaspur where his younger sister lived. Every time they had to seek refuge as none of the landlords were ready to give them a place to stay. "Everyone was aware of his acts," Bhawna said.
Her account sounded sketchy, though. Delhi police maintained that Rastogi was arrested twice — in 2006 and 2016. An FIR was registered against him for raping a minor last year and he was jailed.
He, however, walked out on bail six months later in November. On the next court hearing, Rastogi did not turn up.
Rurdapur police corroborated the Delhi police version, saying "he was arrested last February for molesting a 10-year-old and he spent time at Haldwani prison. He used to visit a slum cluster near Rudrapur bus station to prey on minor girls.
Rastogi is said to have sexually abused over 60 minor girls across Delhi, Uttar Pradesh and Uttarakhand.
In his confession to police, he mentioned 60 locations, mainly rooftops, abandoned buildings and under-construction houses, where he allegedly took the girls and abused them.
Read more | Did Delhi 'serial rapist' abuse 500 girls? Doubts remain over the number
On Monday, four more victims came forward to press charges against him.
Wife Bhawna vouched for her husband on one count — that he was a caring father and "never misbehaved with me or my children at home".
Probably he didn't behave badly with his family, but he did push his children to fend for themselves, according to the landlady — Kavita Prabhu.
Last August, two girls aged 15 and 13 approached her. "Our father works in Delhi and our mother is disabled. We are five brothers and sisters and have no place to live. Please give us a room on rent," Prabhu said quoting the sisters.
She couldn't say no. "Had I known anything about his past I would have never let them stay here," she said on Monday.
Rastogi continued his visits to New Delhi, a city he left in 2004.
"The pattern remained the same. He used to leave in the morning to board the Sampark Kranti Express which departs from Rudrapur railway station at 10.06am. The visits were short but regular," his brother-in-law Naresh said.
His excuse was common too: Looking for work. He returned next evening, always empty-handed.
Read | 3 years of manhunt, sketches, jail records led police to Delhi 'serial rapist'
(With inputs from Ananya Bhardwaj, New Delhi)
Close Story