RK Nagar bypoll result: Dhinakaran wins Jayalalithaa seat; setback to AIADMK, DMK
Dhinakaran's win in the constituency, which has a symbolic value for its association with Jayalalithaa, could catapult him to a place of prominence in state politics and give him a larger role in the 2019 general elections.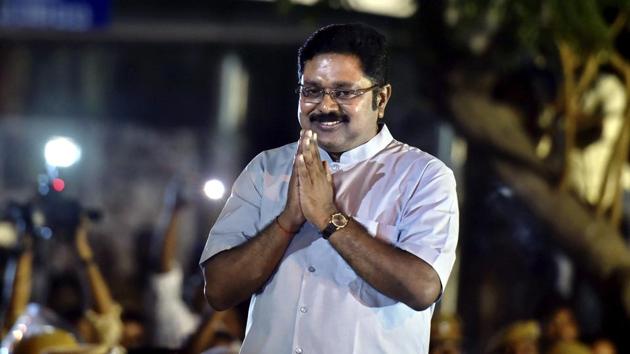 Updated on Dec 24, 2017 11:00 PM IST
Sidelined AIADMK leader TTV Dhinakaran spelt embarrassment for chief minister Edapaddi Palaniswami's camp Sunday, winning a by-election to Chennai's RK Nagar assembly constituency with a margin more than what J Jayalalithaa secured on her way to win the seat in 2016.
The constituency, which has a symbolic value for its association with Jayalalithaa, had fallen vacant after the charismatic AIADMK leader's death last December.
Even as counting was in progress, Dhinakaran claimed to be the "real successor" to the legacy of Amma, as Jayalalithaa was popularly known in Tamil Nadu.
In the election held on December 21, AIADMK presidium chairman E Madhusudhanan could win just 47,115 votes --- some 40,000 fewer than Dhinakaran, who is the nephew of Jayalalithaa aide Sasikala. Jayalalithaa's 2016 victory had come with a margin of 39,545 votes.
Dhinakaran, who fell out of favour with CM Palaniswami and lost the battle for the party's 'two leaves' symbol, fought as an independent under a "pressure cooker" symbol.
He was left out in the cold after AIADMK rival factions led by Palaniswami and O Panneerselvam, now the deputy CM, joined hands following a prolonged spell of infighting in the aftermath of 68-year-old Jayalalithaa's death.
Dhinakaran's victory sparked huge celebrations at his Adyar residence, where supporters declared that the Palaniswami government will collapse soon and their "Anna (read Dhinakaran)" will become the CM.
"Symbol is not important, the candidate is," Dhinakaran said earlier in the day, declaring the government will fall within three months.
He asserted that the government was in minority since 18 MLAs loyal to him had withdrawn support to the EPS-OPS camp.
And in the confident assertion of Dhinakaran lies the importance of his victory. In the short term, his win may trigger a fresh round of infighting within the AIADMK. In the long run, Dhinakaran has emerged as an important political player in Tamil Nadu who will have a larger role in the general elections.
Some BJP leaders have already reached out to Dhinakaran to congratulate him, sources said. A few MLAs from the EPS-OPS side, too, have begun contacting him.
Also, his victory in Jayalalithaa's bastion will have a direct impact on the state government once Dhinakaran enters the assembly and launches his assault on the government and its MLAs.
"It is definitely bad news for the AIADMK (EPS-OPS) ruling camp, but it is even worse news for the DMK...," said Prof Ramu Manivannan of the Madras University.
For the DMK, which is positioning itself as the next ruling party, the outcome was shocking as it had to lose its deposit. The BJP was never in the contest and polled fewer votes than NOTA. The saffron party secured 1,417 votes as compared to the NOTA figure of 2,373.
Dhinakaran's vote share was 50.32% as compared to AIADMK's 27.31%. The DMK's share was 13.94%, a sharp fall in comparison with its performance in the 2016 state elections.
Political analyst Sumanth C Raman wondered whether the DMK had "transferred its votes".
But DMK spokesperson TKS Elangovan said: "We do not contest elections to lose and make someone else win. We will introspect to find out the reasons for the loss and make corrections for future."
Prof Manivannan said Karunanidhi's DMK "must rethink their strategy", adding that voters' message to political parties is their violent anger can make a hero out of a nobody.
"Had the DMK not contested the seat, it would have been fine. But trailing in third position with huge margin is certainly not something that the DMK leadership would be very happy with," he said.
Tamilisai Soundararajan, the BJP's state unit chief, said "money power has won".
"Since the beginning we have been saying money is being distributed…Tell me what Dhinakaran has done to deserve this kind of victory?" she asked.
The DMK too charged the EPS-OPS and Dhinakaran's camps with pumping in money to win the by-election. "We want to put an end to the use of money power in elections," said DMK spokesperson A Sarvanan.
Close Story