ED arrests TMC youth wing leader in West Bengal school recruitment scam
Jan 21, 2023 11:29 PM IST
Kuntal Ghosh, one of the secretaries of the TMC's youth wing, was arrested after being questioned for hours by ED sleuths, who also conducted a search at his two flats in a residential society at Chinar Park
Kolkata: The Enforcement Directorate (ED) on Saturday arrested a Trinamool Congress (TMC) youth wing leader in connection with its probe into large-scale irregularities in recruitment of teachers in West Bengal, officials said.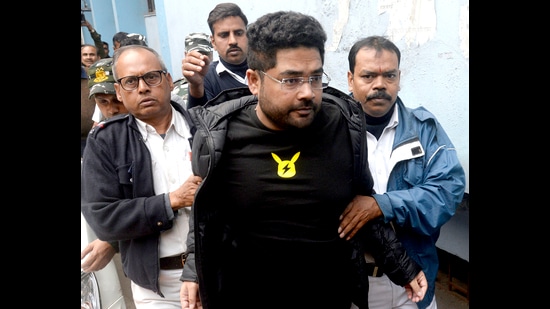 Kuntal Ghosh, one of the secretaries of the TMC's youth wing, was arrested after being questioned for hours by ED sleuths, who also conducted a search at his two flats in a high-end residential society at Chinar Park on Friday.
"He was arrested on Saturday morning. He was produced before the court, which sent him to ED custody till February 3," said an ED official, requesting anonymity.
ED told the court that Ghosh had illegally collected at least ₹30 crore from job seekers, the official added.
The Central Bureau of Investigation (CBI) is probing the alleged irregularities in the recruitment of non-teaching staff (Group C and D), as well as teaching staff by the West Bengal School Service Commission (SSC) and West Bengal Board of Secondary Education between 2014 and 2021. CBI started the probe on the directions of the Calcutta high court in May last year. ED is looking into the money trail involved in the case.
It has been alleged that applicants paid ₹5 lakh to ₹15 lakh bribes to get the jobs after failing the selection tests.
Kuntal Ghosh was earlier questioned by CBI three times in connection with the case. Officials familiar with the matter said his name cropped up during the questioning of Tapas Mondal, another accused, who alleged that Ghosh had collected bribe money from job seekers to the tune of ₹19.4 crore.
"This is Mondol's conspiracy. He had demanded money from me, which I refused to pay. That is why I have been framed," Ghosh told reporters after his arrest by ED, adding that the "TMC top brass are not aware of anything".
However, the ED official quoted above said: "The agency also seized a diary from his flat which reveals that he collected around ₹30 crore from job seekers."
Mondol had also named another TMC leader Santanu Banerjee, whose house in Hooghly district was searched by ED on Friday.
Mondal was president of the association of Bengal's 625 private-run bachelor of education (B.Ed) and bachelor of elementary education (B.El.Ed) colleges and institutions till he was named in ED's second charge sheet in the case in December last year. ED has accused him of money laundering.
Mondol was known to be a close associate of TMC legislator Manik Bhattacharya. Last year, ED arrested former state education minister Partha Chatterjee and Bhattacharya in connection with the case. Both are currently in the agency's custody.
"Why should I demand money from Ghosh? He had collected huge money from job aspirants," Mondol was quoted as saying by local media on Saturday. "I had urged him to return the money as many (aspirants) did not get jobs even after paying money to Ghosh."
Soon after Ghosh's arrest, the opposition Bharatiya Janata Party (BJP) attacked the ruling party.
"These people should be kept in jails outside West Bengal (during questioning). Only then they will open up during interrogation. They have been briefed on what to say during questioning," said Suvendu Adhikari, leader of the opposition in the assembly. "They know if they tell what they have been briefed, they will get all facilities like warm water, bed and mobile phone inside the jails in West Bengal."
Hitting back, the TMC said names of several BJP leaders have surfaced in allegations, but central agencies did not take any action against them.
"This probe is like a never-ending TV serial. We are getting to hear stories at regular intervals but the probe is unending. We all want the probe to come to an end and the guilty be punished. We have zero tolerance to corruption," said TMC Rajya Sabha member Santanu Sen. "We have serious questions over ED's conviction rate and the central agency's unbiased stand. We also want probe against BJP leaders against whom allegations have surfaced in the past but the central agencies have not taken any steps."