Enrolment up but women representation remains low in professional, tech courses
Jan 31, 2023 09:09 AM IST
Even as women enrolment increased across disciplines in higher education in 2020-21, their representation remained low in professional and technical courses
Even as women enrolment increased across disciplines in higher education in 2020-21, their representation remained low in professional and technical courses. The enrolment was under 30% in engineering and less than 40% in management courses, according to the 2020-21 All India Survey on Higher Education (AISHE) report.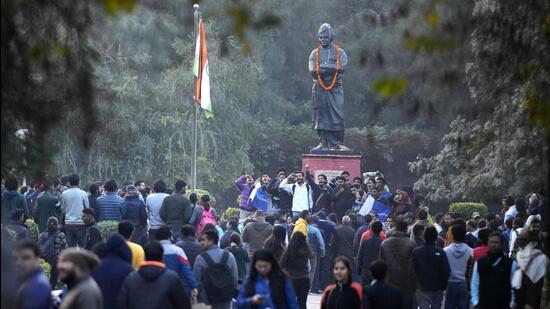 The report covers over 10,00 universities, 40,000 colleges, and 8,600 stand-alone higher education institutions across the country. The Union education ministry released it on Sunday.
The overall women enrolment increased to 20.1 million in 2020-2021 from 18.8 million in 2019-20, the report said. It added but the women's representation remained very low in disciplines including engineering, management, law, computer applications, information technology (IT), etc.
"Female participation in professional courses is lower in comparison to academic courses, at both undergraduate and postgraduate levels…," the report said.
It added that enrolment in management courses at the undergraduate level increased from 2,67,273 in 2019-20 to 2,98,594 in 2020-21. But it was still much lower than the number of male candidates enrolled in the disciple--5,16,273.
In engineering courses, 10,69,136 women students were enrolled at the undergraduate level, compared to 26,17,155 men in 2020-21. In law courses, only 1,61, 897 women students were enrolled against 3,16,115 male students. In IT and computers, 3,44,492 women students were enrolled compared to 5,33,445 male students.
The trend remained the same in these courses at the postgraduate level. The number of women students pursuing management courses at the postgraduate level increased in 2020-21 to 2,95,745 from 2,78,050 in 2019-20. It was still lower than the number of male students enrolled in the discipline--3,90,256.
The number of women students remained almost half that of the 1,18,012 male students in engineering courses at the postgraduate level in 2020-21.
University Grants Commission (UGC) chairperson M Jagadesh Kumar said the trend is the same globally. "Even in countries such as the UK and the US, women constitute less than 20% of engineering education and profession. In India, what is gladdening is that more female students are getting into professional programmes each year."
He said a proactive step introduced five years ago at the Indian Institutes of Technology to create 20% supernumerary seats in all engineering programmes is steadily increasing female student participation in engineering. "The UGC also gives research fellowships to female students (single girl child in the family) without writing UGC-NET to pursue the PhD programme at any university."
Kumar asked higher educational institutes to conduct school outreach programmes and talk to parents in special interactive sessions. "It is also a good idea to involve the female alumni of the educational institutes to reach out to the prospective female students to dispel their doubts. Just as female participation is growing in all fields in our country, I am confident that their numbers will keep rising rapidly in the coming years in all professional programmes."
All India Council for Technical Education member secretary Rajive Kumar said due to constant government efforts, more women students have started taking admissions to technical and professional courses. "...we still need to take more efforts to create more awareness among students and parents, particularly in rural India. There is no dearth of colleges offering these courses in rural areas. But we will have to create more employment opportunities also in these areas so that more and more female students opt for professional and technical courses."
Educationist Meeta Sengupta said Indian women have made steady progress in education and the AISHE report reflects it. "The steady increase of women students in higher education that directly leads to higher chances of employability augurs well for the share of women in the workplace which had fallen in recent years. Based on the trends in higher education, we can expect that in less than a decade the share of women in the workplace will go up to at least 30% and can only increase after that."