Gangasagar stampede: Six killed as pilgrims rush to board boat
Six pilgrims, all women, died due to suffocation during a mad rush of the crowds to board a vessel at Kachuberia on their way home from Gangasagar fair after taking the holy dip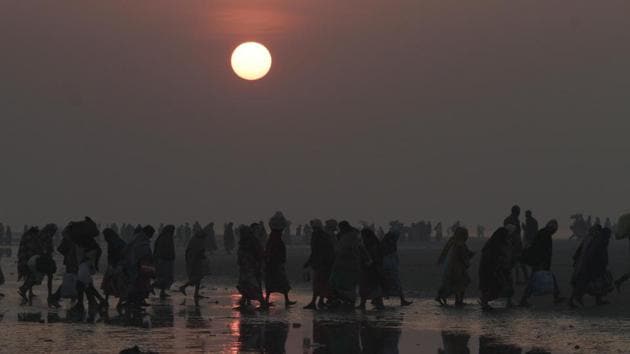 Updated on Jan 16, 2017 02:23 PM IST
At least six elderly pilgrims died while returning from the Gangasagar fair at Sagar island in Bengal on Sunday, in an incident that reports said was a stampede but the state government attributed the deaths to "heart attack".
Several news channels reported that the pilgrims died in a stampede that broke out while they were waiting to board a launch at jetty No 5 in Kachuberia to leave the island, where pilgrims gather to take a holy dip in the Ganges on Makar Sankranti.
PB Salim, district magistrate of South 24 Parganas, and minister of state in charge of Sunderbans development Manturam Pakhira told HT that the women died of heart attack while waiting for the boat.
"Six people died after they fell ill. Two people died in the island on Saturday as well. There was no stampede or any incident of that nature," Salim said.
Pakhira also said that a large crowd was waiting for the boat when the women "fell ill."
"Several people fell ill and were taken to the temporary hospital set up at Kachuberia. The six women died of heart attack. They were all very old. The others were released after treatment," Pakhira said by phone from the island.
Asked if the government had offered any compensation to families of the victims, Pakhira said no such decision had been taken.
"There was no accident and the deaths were not unnatural. However, I will discuss the matter with the district administration," he told HT.
In less than two hours of the incident, the deaths took a political colour amid the ongoing tussle between the Trinamool Congress and BJP with Prime Minister Narendra Modi announcing compensation for the dead and injured pilgrims.
"Saddened by the loss of lives caused by a stampede in West Bengal. My thoughts are with the families of the deceased," tweeted Modi from his PMO account.
Around 9.20pm, the PMO tweeted that exgratia payment of Rs 2 lakh would be given to families of the deceased and Rs 50,000 to those who were injured.
However, the state government maintained that the deaths were not caused by any accident or stampede.
Incidentally, as soon as the news broke, state panchayat minister Subrata Mukherjee said he was waiting for details but had heard that a large number of pilgrims had assembled at the jetty to return to the mainland when the incident took place.
"The high tide was approaching and the pilgrims knew that they would have to wait for almost eight hours for the low tide. They didn't want to wait and tried to board a boat," Mukherjee told a TV channel.
More than 15 lakh pilgrims had assembled at Sagar Island this year. On Saturday, they took the holy dip and offered prayers at the ashram of Kapil Muni. The pilgrims had started leaving the island from Sunday morning.
Close Story