Govt reviews pact with Myanmar on free movement along border
Published on Sep 27, 2017 07:25 AM IST
A large number of Rohingya Mulisms have fled Myanmar and are seeking refuge in India following a crackdown by the military in Rakhine province.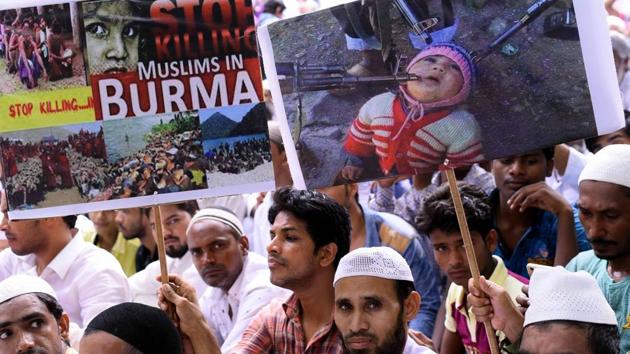 The ministry of home affairs (MHA) is reviewing the impact of a bilateral agreement with Myanmar, which allows free movement of people from the two countries within 16km of the Indo-Myanmar border.
The move comes against the backdrop of a large number of Rohingya Muslims fleeing Myanmar and seeking refuge following a crackdown by the military in the Rakhine province.
A visa-free movement regime (FMR) exists in the four states along the Indo-Myanmar border, under which people from both countries can stay for up to 72 hours in the area with effective and valid permits issued by the designated authorities on either side.
According to a senior home ministry official, special secretary (internal secretary) Rina Mitra and joint secretary (northeast) Satyendra Garg, along with other ministry officials visited Arunachal Pradesh, Nagaland, Mizoram and Manipur "to study the existing system".
"Several border exit points were also visited (in the four) states. Meetings with the respective state chief secretaries, police chief commissioners and unites of Assam Rifles were also held," the official said, adding that the visit was part of decision taken by home minister Rajnath in June to carry out a review of the border situation.
In a statement issued by the ministry of home affairs, Rajnath Singh was quoted as saying that militants and criminals were misusing the free movement regime.
"This regime has been in place keeping in view the traditional social relations among the border people.
It helps genuine people living in the close proximity of the border. However, it is misused by militants and criminals who smuggle weapons, narcotics, contraband goods and Fake Indian Currency Notes (FICN)," the statement said.
It went on to add "With fast improving security situation in this region, militants are denied hideouts here and some of them have relocated themselves across the border. Taking advantage of the free-movement regime occasionally they enter India, commit crimes and escape to their relatively safer hide-outs," the statement read.