Hardik Patel quits Congress, blames top leaders
Updated on May 19, 2022 03:25 AM IST
Patidar leader Hardik Patel, who exited the Congress on Wednesday, is widely expected to be headed to the BJP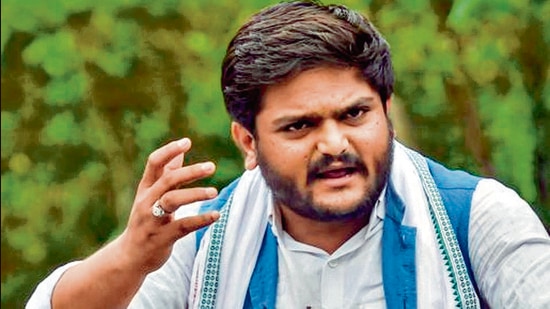 AHMEDABAD Patidar leader Hardik Patel, who joined the Congress a little over three years ago, resigned from the party on Wednesday, ahead of a possible move to the Bharatiya Janata Party (BJP) to contest state elections later this year, according to people familiar with the matter.
Patel's one-page resignation letter -- he put out copies in English and Hindi on his Twitter handle -- was scathing in its criticism of the Congress and its leaders who, he said, did not have a road map for the people, were non-serious and behaved as if they hated Gujarat and Gujaratis.
"Whenever our country faced challenges and when the Congress needed leadership, Congress leaders were enjoying abroad," said the former Gujarat Congress working president, who hit national headlines in 2015 when he, then a 21-year-old, became the face of the Patel Anamat Andolan Samiti (PAAS) to seek inclusion of Gujarat's Patel community as other backward classes (OBC) and get quota benefits in education and jobs.
"Be it building the Ram Mandir in Ayodhya, revocation of Article 370 from Jammu and Kashmir, implementation of GST (Goods and Services Tax) — India wanted solutions for these subjects for a long time and Congress only played the role of a roadblock and was always only obstructive. When it came to issues related to India, Gujarat and my Patidar community — the Congress's only stand was to oppose whatever the Government of India led by Prime Minister Narendra Modi ji did. Congress today has been rejected in almost every state of India because the party and its leadership have not been able to present a basic road map to the people," Patel said.
Patel's letter spoke of his disappointment when party workers like him travelled 500-600km to attend a meeting and discuss issues but found the local leaders busy trying to ensure that some senior Congress leader from Delhi was served "his chicken sandwich on time".
"Whenever I tried to draw the attention of party leaders towards pressing issues of Gujarat, it seemed they were more focused on their mobile phone screens and other gadgets," Patel said, describing a "lack of seriousness about all issues" as a major problem with the Congress's "senior leadership".
Patel's resignation from the Congress was a "politics of dishonesty, betrayal", Raghu Sharma, All India Congress Committee (AICC) in charge of Gujarat said on Wednesday evening. He said Patel had been in touch with the BJP for the past six months.
"This is politics of dishonesty, of betrayal. He was a star campaigner in the recent elections in five states. He was bad-mouthing the BJP in UP, Uttarakhand and Punjab. What happened overnight?" Sharma was quoted as saying by ANI.
"He was in touch with the BJP for the last six months for the withdrawal of cases against him. This is politics of opportunism and nothing else. Gujarat understands this," he said.
Congress national spokesperson Shaktisinh Gohil also attacked Patel, calling him "dishonest" and an "opportunist". Gohil claimed that youth leaders who have switched to the BJP have been reduced to "zero".
A Gujarat BJP leader confirmed the 28-year-old politician, who has lately praised the BJP and its leadership, had been in talks to make the switch.
Aam Aadmi Party (AAP) Gujarat convener Gopal Italia said, "We have maintained that the Congress party has ceased to be politically relevant for a long time now. Hardik Patel's resignation from Congress has proved that the political trajectory of the party has come to an end in Gujarat. That is why this assembly election will be a fight only between the BJP and the AAP."
Since the 2017 state elections in which the Congress delivered its best performance in years and ended up with 77 seats, the party has already lost 13 lawmakers to the BJP. One leader suggested that the party may lose half-a-dozen more lawmakers over the next few weeks and months. The Congress currently has 63 legislators in the assembly; the BJP has 111.
In part, the Congress's success in stopping the BJP tally in the 2017 elections at 99 was linked to its success in stitching an alliance of three youth leaders: Hardik Patel, Jignesh Mevani and OBC leader Alpesh Thakor.
Alpesh Thakor joined the BJP in 2019, the same year Hardik Patel teamed up with the Congress. Mevani has been a supporter of Congress but has not joined the party officially.
Patel's exit from the Congress had been expected for some time, especially after he started complaining about the state of affairs in the state unit for days and weeks. After one such outburst in April, he told reporters: "If speaking the truth is a crime, consider me guilty. The people of Gujarat have expectations from us, we have to stand up to them".
A fortnight later, he removed Congress from his Twitter bio after praising the central government for revoking Article 370 and undertaking construction of the Ram Mandir.
Rahul Gandhi did reach out to him and later shared the dais with him during a visit to Gujarat's tribal belt but the two did not spend much time on the sidelines to discuss Patel's concerns, the Patidar leader's supporters said.
Patel, who could not contest the last assembly polls because he wasn't 25, the minimum age to be a candidate, is likely to take part in the elections to be held in December this year. A conviction in a 2015 rioting and arson case related to the Patidar protests, which would have barred him from contesting elections, was stayed by the Supreme Court in April 12.
There are at least a dozen cases pending against Patel, including two of sedition.