More focus on chicken sandwich for Delhi leaders: 3 things Hardik Patel says as he quits Congress
May 18, 2022 10:57 AM IST
Hardik Patel, in a no-holds-barred attack, said senior Congress leaders behave in such a way as if they hate Gujarat and Gujaratis. Whenever the country needs senior Congress leaders, they are abroad, Hardik Patel wrote in his resignation letter addressed to Sonia Gandhi.
Hardik Patel on Wednesday announced his resignation from the Congress, days after speculations fuelled by his criticism of the party. In his resignation letter, the working president of the party's state unit made no attempt to hide his disappointment with the party as he said the party lacks seriousness and the only stand is to oppose whatever the Centre led by PM Modi did.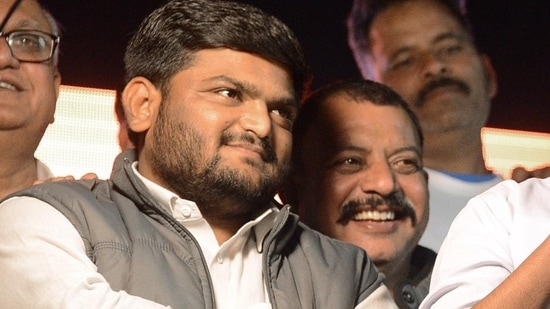 "Whenever I met with the senior leadership, I always felt that leaders were not really interested in hearing about problems concerning the people of Gujarat but were more engrossed on what messages they had received on their mobile and other such trivial things," Patel wrote.
"Whenever our country faced challenges and when the Congress needed leadership, Congress leaders were enjoying abroad!" Hardik Patel wrote adding that senior leaders of the party behave in such a way as if they hate Gujarat and Gujaratis. "How in the world can the Congress then expect that the people of Gujarat will see them as an alternative to lead our state?" Hardik Patel wrote.
In another point, Hardik Patel wrote it is unfortunate that workers like him who travel 500-600km in a single day to meet people of the state find that the big leaders of the Congress in Gujarat are more focussed on ensuring that chicken sandwich for leaders who have come from Delhi is delivered on time. "Gujaratis can never forget how the Congress party has insulted Sardar Vallabhbhai Patel," he added.
Making his third point on how Gujarat Congress has been weakened by its leaders, Hardik Patel wrote party leaders have diluted many issues of public importance, 'all for humongous personal financial gains'. "Political thoughts can be different but this kind of a sell out by our leaders for so many years is a betrayal of the people of Gujarat," he wrote.
"I feel sad and disgusted at the same time as almost everyone in Gujarat is aware of this," he added. "Everyone who is active in political and social life must keep working for the people but it is almost like the Congress does not want to do anything good for Gujatar. Even when people like me wanted to do something good for the state, all I and my community faced was ridicule and contempt. When I joined the Congress I did not know that the hearts and minds of leadership of the Congress are filled with such hatred towards our country India, towards my community and especially towards the youth!" Hardik Patel wrote.
The Patidar leader has been hitting out at his own party and also alleged that he faced harassment from partymen. However, every time it has been speculated that Hardik Patel may join the BJP, he dismissed all such talks. He kept on insisting that he will not leave the Congress as hoped the party will find a way to keep him, resolving the issues.