Haryana plywood units to go on indefinite strike against GST
Plywood manufacturers from the industrial town of Yamunanagar, which is home to over 1,000 units alone and considered one of Asia's largest timber markets.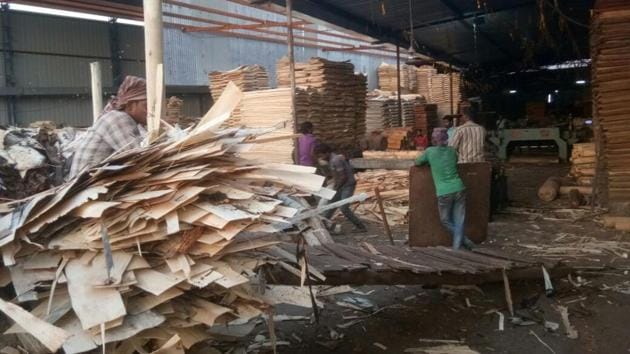 Updated on Jul 14, 2017 09:06 AM IST
Intensifying their stir against the Goods and Services Tax (GST) , nearly 1,100 plywood units, including plyboard and peeling factories, across the state have decided to go on an indefinite strike from Friday.
Plywood manufacturers from the industrial town of Yamunanagar, which is home to over 1,000 units alone and considered one of Asia's largest timber markets. Scores of plywood units in Kaithal, Rohtak and the NCR region are also going to join the indefinite strike.
The strike is going to affect nearly 90,000 workers employed in these units besides hitting about 1,000 timber merchants, transporters and labourers.
The plywood manufacturers are protesting against the 28 per cent GST on plywood, 18 per cent GST on raw material and 2 per cent market fee, alleging that the new tax regime will cost them heavily and it will be difficult to run the industry.
They alleged that since the implementation of GST, they are unable to sell their product and are left with no other option but to shut factories from Friday.
CLAIM SUPPORT FROM DELHI, PUNJAB, UP
Members of the All India Plywood Manufacturing Association said plywood manufacturers in Delhi NCR,Punjab,Uttar Pradesh and Uttarakhand have also extended their support to the strike.
"We cannot afford 28 per cent tax on plywood under GST besides 18 per cent GST on poplar and eucalyptus trees and 2 per cent market fee, and we have to close our units," Devendra Chawla, president, All India Plywood Manufacturing Association, said.
"Before GST, we were paying about 15 per cent tax, including 4.2 per cent VAT (value added tax), on purchase of raw material. This will increase prices by about 24 per cent," he said.
YAMUNANAGAR UNITS CONTRIBUTE 40% TO COUNTRY'S OUTPUT
Yamunanagar plywood units contribute about 40 per cent of total plywood production in the country. The manufacturers claim that annual turnover of all the plywood units is around Rs 1,200 crore on paper and annual collection of tax from Yamunanagar's plywood industry is around Rs 117 crore.
But after the implementation of GST the plywood industrialists will have to reveal their actual income and expenditure following which the annual turnover will cross Rs 5,000 crore on paper, whereas the tax collection will jump around Rs 1,400 crore, the sources said.
Chawla, however, skipped the question about tax evasion by plywood manufacturers. "Tax evasion is more likely when taxes are higher. If the government will impose 28 per cent GST, the consumer will have to pay 40 per cent more. This will also encourage tax evasion even more."
Members of the plywood association have already taken up the issue with Union finance minister Arun Jaitley and Haryana finance minister Capt Abhimanyu and demanded GST on plywood should be brought down to 18 per cent but to no avail.
"Now, we have decided to shut our units as we cannot run our factories if the government does not bring GST down to 18 per cent," said Narendra Sethi, owner of a plywood factory .
Before the GST implementation, Yamunanagar units were producing more than 300 truckloads of plywood in 24 hours but after July 1 the production has fallen to below 100 truckloads, creating insecurity among workers.
"We will not be able to do anything if the plywood production does not resume. This is going to affect thousands of workers in plywood units here," said Brij Lal, an electrician with a Yamunanagar unit.
Close Story
Personalise your news feed. Follow trending topics