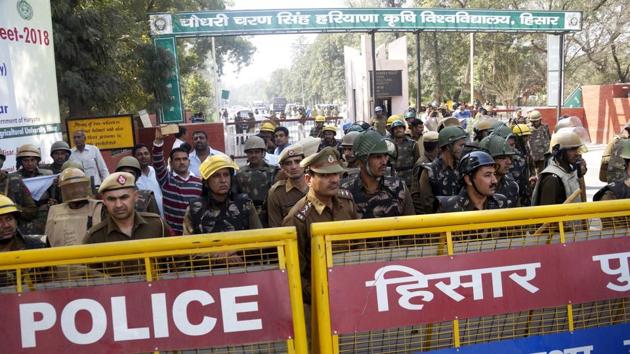 Haryana police foil Delhi gherao bid, 150 farmers booked in Yamunanagar
The police also foiled the attempts of farmers to hold meetings that they had called to decide the further course of action after several others were detained on Thursday.
UPDATED ON FEB 24, 2018 12:25 PM IST
Taking action against the protesting farmers who were marching towards Delhi demanding a complete loan waiver and implementation of the Swaminathan panel recommendations, the Yamunanagar police booked about 150 farmers for blocking the National Highway and pelting stones at the police on Friday. As many as 35 farmers were also arrested by Radaur police. The police have also impounded several tractor-trailers of the farmers.
When contacted Radaur deputy superintendent of police (DSP) Ajay Rana said, "As many as 150 farmers were booked, including 41 by name, under Section 307 (attempt to murder), 332 (voluntarily causing hurt to deter public servant from his duty), 353 (assault or criminal force to deter public servant from discharge of his duty), 186 (obstructing public servant in discharge of public functions), 148 (rioting, armed with deadly weapon), 149 (Every member of unlawful assembly guilty of offence committed in prosecution of common object) and 283 (danger or obstruction in public way or line of navigation) of the Indian Penal Code (IPC) and they have also been booked under Section 8 of the National Highway Act."
"As of now 35 farmers have been arrested and investigation is on to arrest others," he added. He said that Section 307 (attempt to murder) was invoked as the farmers were indulged in stone pelting and one policeman sustained injuries, and was hospitalised.
The police also foiled the attempts of farmers to hold meetings that they had called to decide the further course of action after several others were detained on Thursday.
Yamunanagar superintended of police (SP) Rajesh Kalia could not be contacted despite repeated attempts.
'Will boycott BJP in next polls'
Meanwhile, the agitated farmers threatened to boycott the BJP leaders in the coming elections. "We have decided not to allow the leaders of the ruling party to enter our village. They will have to pay for it," a farmer leader Sandeep Topra, said in a video message on Facebook..
It is pertinent to mention here that the Yamunanagar police used force to remove the protesting farmers on Thursday evening when they refused to lift the blockade from Yamunanagar-Kurukshetra road at Radaur, alleging that the police did not allow them to reach Delhi to join protest for their demands.
5 farmers detained in Panipat
Five farmers were detained in Panipat district as they were planning to reach Delhi to participate in the protest. As per the police, those arrested have been identified as Naveen, Jasbir, Satyanaran, Navrang and Kuldeep. The police said that they were detained on charges of disturbing peace.
A group of famers from Panipat also reportedly managed to reach Delhi.
Heavy police deployment was made in Panipat as the police had got secret information that farmers from Uttar Pradesh may reach Delhi via Panipat.
Stand-off ends in Hisar as admn releases farmer leader Suresh Koth
The stand-off between farmers and the Hisar local administration ended at Kheri Chopta village, after the local administration released their leader Suresh Koth on Friday.
On Thursday, police had detained Koth in a bid to stop the farmers from moving towards the national capital as a part of the Rashtriya Kisan Mahasangh's 'Delhi-Gherao' call.
Irked over Koth's detention, the other farmers jammed the Jind-Barwala road, forcing the administration to call the Rapid Action Force (RAF) to maintain law and order. On Friday, Koth was released after 3pm following which the farmers lifted the blockade.
Vikas Kumar, a protesting farmer, said, "At about 3am, we decided not to move towards Delhi and instead continue our protest from here at Kheri Chopta village."
Close