IAF inches closer to inducting Rafales, but hurdles remain
Dec 15, 2017 07:15 AM IST
The Indian Air Force will send a batch of hand-picked pilots and technicians to train on the Rafale warplanes at the Mont-de-Marsan air base in southwestern France next year
The Indian Air Force will send a batch of hand-picked pilots and technicians to train on the Rafale warplanes at the Mont-de-Marsan air base in southwestern France next year to prepare the ground for inducting its first imported fighter jets in 22 years.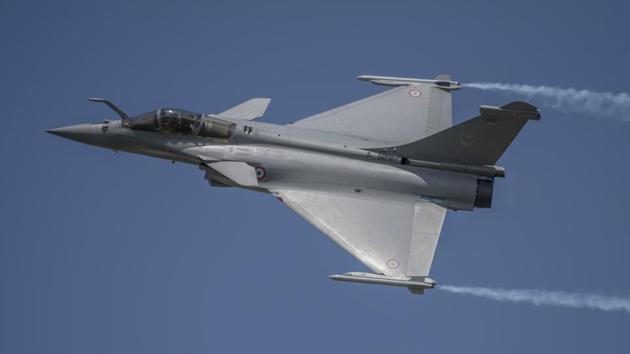 It will be the responsibility of the Indian air crews to fly the first lot of the French fighters to the country, beginning September 2019.
The Russian Sukhoi-30 fighters were inducted in June 1997.
India and France signed an $8.7-billion deal for two Rafale squadrons (36 planes) in September 2016 as an emergency purchase to arrest the worrying slide in the IAF's capabilities.
All 36 fighter planes will arrive by September 2022, a small step on the long road towards building a stronger air force.
India floated a global tender for 126 planes a decade ago but it stood cancelled after Prime Minister Narendra Modi declared in April 2015 India would buy 36 Rafales from France under a government-to-government deal.
Experts have warned that the smaller Rafale order falls short of the IAF's requirement of medium-weight fighters. Top IAF officials said India could explore the possibility of buying two additional Rafale squadrons but there's nothing on the table yet.
"The induction of the 36 Rafales will significantly improve the IAF's capability but we have to get more fighters. Most definitely, we have to get the numbers," said former IAF vice chief Air Marshal KK Nohwar, who is now the additional director general of Centre for Air Power
Studies.
The count of the IAF's fighter squadrons has reduced to 33 compared to an optimum strength of 42-plus units required to fight a two-front war. Air Marshal PS Ahluwalia (retd), a former Western Air Command chief, listed a combined threat from China and Pakistan as a top concern.
"It's a serious issue that needs to be looked into," he said, making a strong case for ordering 36 more Rafale fighters. In December 2016, then IAF chief Air Chief Marshal Arup Raha said the 36 Rafales on order were not enough and India needed around 200 such fighter jets for the expansion of its military capabilities.
The Chinese and Pakistani air forces operate 60 and 25 fighter squadrons respectively. Experts say a squadron-to-squadron comparison isn't fair and what is more crucial is how many warplanes are available for missions at any given time, in air force parlance serviceability of a fleet.
The IAF's fleet consists of 11 squadrons of ageing MiG-21 and MiG-27 fighters that will be retired in phases over the next five to six years. Su-30 fighters account for 13-plus squadrons but the fleet is plagued by engine troubles and is also battling poor serviceability. The remaining nine squadrons are a mix of Mirage 2000 fighters, Jaguars and MiG-29s.
Also, 32 more Sukhois are likely to be inducted by 2020.
The IAF was pegging hopes on a mix of new planes to hit the pause on the sharp drawdown of its fighter fleet, and eventually strengthen it. But the fate of some of these projects looks iffy.
India is yet to take a call on whether it should co-develop a stealth fighter with Russia, with the IAF having strong reservations about going ahead with the multi-billion dollar fifth generation fighter aircraft (FGFA) project.
A plan to locally produce single-engine fighters in collaboration with a global defence contractor faces an uncertain future with the defence ministry treading cautiously as a single vendor situation might crop up, Hindustan Times has learnt. United States defence contractor Lockheed Martin and Swedish firm Saab are the only two companies exploring opportunities to build F-16s and Gripens in India. Another plan to build twin-engine fighters in collaboration with a foreign player remains on the drawing board.
IAF sources said the slow rate of production of the homegrown light combat aircraft, christened Tejas, is a reason to worry too. The IAF's first Tejas squadron, raised in 2016, consists of only five planes. It eventually plans to deploy 123 such fighter jets.
The air force could take at least 15 years to deploy its authorised strength of 42 fighter squadrons.
"It's the joke of the century that the Tejas squadron has only five fighters. At this rate, you can calculate when the IAF will get the 123 planes," said Ahluwalia, who led the team that inducted French-origin Mirage 2000 fighters in 1984.
Hindustan Aeronautics Limited claims it is ready to produce eight Tejas aircraft per year and is ramping up the production rate to 16 planes by 2019-20 by investing Rs 1,331 crore. The HAL even claims it can deliver 16 to 24 jets 2021 onwards. It doesn't seem to be a realistic target, a source said.
"I don't know where we will get the replacement for the MiG-21 and MiG-27 fighters. We need single-engine fighters swiftly. Also, there's no use just having numbers, we need capability too in terms of precision weapons, cutting-edge avionics and superior situation awareness," Ahluwalia said, arguing in favour of the single-engine procurement.
He said the twin-engine procurement should also be pursued to eventually replace Jaguars and MiG-29s.
It is crucial to strike a balance between pursuing Make in India projects and the compulsions of the Indian Air Force to address the desperate shortage of fighters, said strategic affairs expert Air Vice Marshal Kapil Kak (retd).
"It's absolutely imperative to induct 150 single-engine fighters for a two-front war or even a full-blown conflagration with our major neighbour (China)," the strategic affairs expert added.