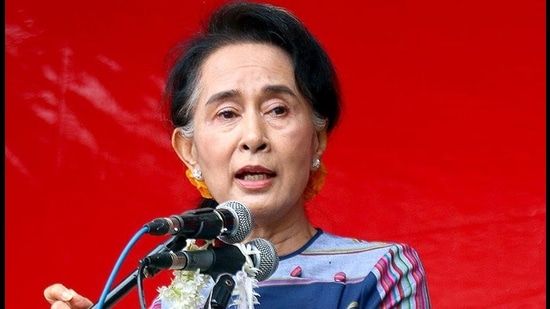 India expresses concern over coup in Myanmar, says democracy must be upheld
The external affairs ministry said it is monitoring the situation closely after that Myanmar's military had seized power in a coup against the democratically elected government of Aung San Suu Kyi
UPDATED ON FEB 01, 2021 07:58 PM IST
India on Monday joined countries around the world in expressing concern at the military coup in Myanmar and detention of de facto leader Aung Saan Suu Kyi, and said the rule of law and democratic process must be upheld.
The external affairs ministry said in a brief statement it was monitoring the situation closely after Myanmar's military seized power by ousting the democratically elected government of Suu Kyi, who was held with other leaders of her National League for Democracy (NLD) party in early morning raids.
The military said it had taken control of Myanmar for a year under a state of emergency to investigate what it described as "huge discrepancies" in the voters' lists used for the general election last November. NLD had easily won the election, securing 83% of available seats in the two houses of Parliament, while the pro-military Union Solidarity and Development Party (USDP) won just 33 seats.
"We have noted the developments in Myanmar with deep concern," the external affairs ministry said.
"India has always been steadfast in its support to the process of democratic transition in Myanmar. We believe that the rule of law and the democratic process must be upheld," it added.
Also read | US urges Myanmar's military to release those detained, respect election results
The US said it was alarmed by the military undermining the democratic transition in Myanmar and urged all parties to adhere to democratic norms. White House spokesperson Jen Psaki said the US "opposes any attempt to alter the outcome of recent elections or impede Myanmar's democratic transition, and will take action against those responsible if these steps are not reversed".
Bangladesh, which has warily followed developments in Myanmar as they will affect efforts to repatriate more than a million Rohingya refugees to Rakhine state, called for upholding the democratic process and constitutional arrangements.
A statement from the foreign ministry in Dhaka said: "We have been persistent in developing mutually beneficial relations with Myanmar and have been working with Myanmar for the voluntary, safe and sustained repatriation of the Rohingyas sheltered in Bangladesh. We expect these processes to continue in right earnest."
China, which views Myanmar as a vital part of its Belt and Road Initiative, called on all parties to "resolve their differences under the constitutional and legal framework to protect political and social stability".
Myanmar's military or Tatmadaw had hinted at a coup since last week while complaining about alleged fraud in the elections, a charge dismissed by the country's election commission and international observers. As the coup ended a decade of civilian rule, phone and internet services were suspended and there was a stronger military presence on the streets.
India has a complex relationship with the civilian government and military in Myanmar, as reflected by the most recent high-level Indian visit to the country – foreign secretary Harsh Shringla was accompanied by Indian Army chief Gen MM Naravane on the trip last October.
While backing democratic forces in Myanmar, India has retained close contacts with the military because of security concerns related to its northeastern states. A number of militant groups from the northeast have had bases in Myanmar over the past decades and the Indian Army has collaborated with its Myanmarese counterpart to pressure them and to conduct joint operations.
India also believes its contacts with Myanmar's military help balance China's influence within the neighbouring country. This is one of the reasons why the Indian side has not publicly criticised Myanmar's handling of the Rohingya crisis.
Former ambassador Rajiv Bhatia, who served as India's envoy to Myanmar during 2002-05, said the military seizing power was the outcome of an array of fault lines related to politics, ideology and personality, and India's response will be guided by past lessons.
"The first reaction will be concern that democracy has suffered a setback. But then the reality of hardcore security and strategic interests will come into play and there will be a balance between India's principles and interests. While expressing faith in democracy, we will find a way to deal with those who wield power in Myanmar," he said.
Close