India, Indonesia agree to step up defence and maritime cooperation during Modi visit
Updated on May 30, 2018 11:59 PM IST
After PM Narendra Modi's meeting with Indonesian President Joko Widodo, the two sides signed agreements, including ones on outer space cooperation, railways and health.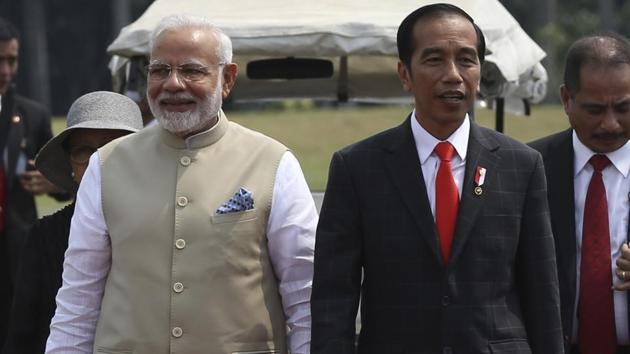 India and Indonesia on Wednesday agreed to step up their defence and maritime cooperation, raising the level of their ties to a comprehensive strategic partnership after the meeting in Jakarta between Prime Minister Narendra Modi and Indonesian President Joko Widodo.
The highlights of the visit included India agreeing to develop the strategically important Indonesian port Sabang in the Indian Ocean, close to the Andamans and the two sides unveiling a vision document for the Indo-Pacific region, the first of its kind between India and a south-east Asian country, and dealing with an area where China is increasing its footprint.
The two sides also signed 15 agreements including ones on enhanced defence cooperation, outer space cooperation, railways and health.
Prime Minister Modi, in his first visit to Indonesia, which has the world's highest population of Muslims, spoke about India's special ties with Indonesia, and the need to find common ground in the two countries' strategies and visions for the region.
"In today's changing scenario in the Indo-Pacific region, we (India and Indonesia) are geostrategically located. Under India's Act East policy, we have SAGAR -- Security and Growth for All in the Region -- which matches with President Widodo's Global Maritime Fulcrum," Modi said.
While Modi's SAGAR initiative talks of India's engagement in the Indian Ocean region, Widodo's Global Maritime Fulcrum seeks to cash in on Indonesia's geographic position to make the south-east Asian nation a "fulcrum" of Indo-Pacific maritime activity.
In their document for the Indo-Pacific region, the two sides reiterated the importance of achieving a "free, open, transparent, rules-based, peaceful, prosperous and inclusive Indo-Pacific region, where sovereignty and territorial integrity, international law, in particular UNCLOS, freedom of navigation and overflight, sustainable development and an open, free, fair and mutually beneficial trade and investment system are respected".
With a coastline of 7,500 km, India occupies a central position in the Indo-Pacifi c, while Indonesia, as the largest archipelagic State in the world with a coastline of 108,000 kms, is as a key country that connects the Indian and Pacific oceans.
Though it is not a claimant, Indonesia has clashed with Beijing over fishing rights around the Natuna Islands and expanded its military presence there.
Developing infrastructure and an economic zone at Sabang port which sits on the tip of Sumatra island and at the mouth of the Malacca Strait, one of the busiest global trade routes, was a major outcome of the visit would go a long way in India's intentions to play a larger role in the Indo-Pacific, analysts said.
Asked about India's investment in Sabang, secretary (east) in the MEA Preeti Saran said New Delhi was interested in helping build infrastructure across south-east Asia.
"There have been discussions about building infrastructure, it's not just seaports, but airports," she said. "There would be a lot of interest among Indian companies."
Officials said two sides are also proposing to hold an annual summit between their leaders.
At present, India has annual summits with only Russia and Japan.
"India is a strategic defence partner...and we will continue to advance our cooperation in developing infrastructure, including at Sabang Island and the Andaman Islands," Widodo told a news conference.
A joint statement issued after the meeting says the two leaders held extensive talks on bilateral, regional and global issues of mutual interest.
The two countries also agreed to combat climate change and ensure protection of environment and natural resources.
The two countries agreed to boost the existing naval cooperation including the bilateral Coordinated Patrols initiated in 2002 between the navies of the two countries and commencement of regular bilateral naval exercises.