India's NSG membership can't be Obama administration's farewell gift: China
China has blocked India's membership of for the 48-member NSG on the grounds that New Delhi is not a signatory to the Nuclear Non-Proliferation Treaty (NPT).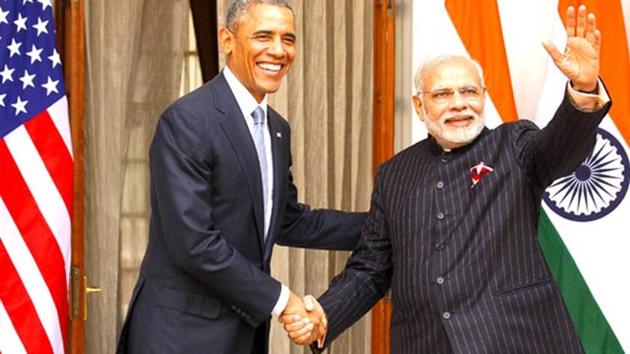 Updated on Jan 16, 2017 08:55 PM IST
Hindustan Times, Beijing |
Sutirtho Patranobis
Membership of the exclusive NSG is not a "farewell gift" for the outgoing US administration to hand out to India, China said on Monday in an acerbic reaction to an American official blaming Beijing for blocking New Delhi's entry to the bloc that controls nuclear trade.
China's strong reaction came within hours of US assistant secretary of state Nisha Desai Biswal's remarks blaming Beijing and indicating that it wasn't ready to budge anytime soon from its position of opposing New Delhi's application.
"Regarding the India's application to the NSG, regarding non-NPT countries admission to the NSG, we have made our position clear before so I will not repeat it. (I) just want to point out that NSG membership shall not be some kind of farewell gift for countries to give to each other," foreign ministry spokesperson Hua Chunying told a regular news briefing.
The outgoing US administration doesn't see it that way. "Clearly there is one outlier that needs to be addressed and that is China," Biswal, the assistant secretary of state for South and Central Asia, said in an interview on Sunday, less than a week before the end of President Barack Obama's tenure.
China is among the countries that have stopped India from becoming a member of the 48-member Nuclear Suppliers Group, which controls access to nuclear technology. These countries have said nations that are not signatories to the Nuclear Non-Proliferation Treaty (NPT) cannot be allowed into the NSG till the rules are amended through consensus.
Reports have suggested that China is acting at the behest of Pakistan, its "all weather" ally. China has insisted its wants a two-step approach – frame a "non-discriminatory formula" for non-NPT countries and then, consider their entry into the NSG.
By describing it as the "outlier", Biswal spelt out that China is the only country which differed from other NSG members about India's inclusion.
"The President (Obama) has been very clear and unequivocal that he believes that India has met the criteria for NSG and that the US supports India's entry, that India is ready and India should be brought into the NSG," she said.
If the issue of inclusion in the NSG was an issue that plagued Sino-India relations in 2016, the other was China blocking India's efforts to get Pakistan-based Masood Azhar listed as a terrorist at the UN.
Hua said that position is not going to change either.
"As we have explained our position before, this question the 1267 Committee needs to base their decision on solid evidence and follow relevant resolutions and rules of procedure and make a decision based on consensus," she said.
"The technical hold China proposed is to allow more time for consultation and deliberation," Hua said. "It is a regret that no consensus has been reached so far. We need time for deliberation and consultantion, we need more time for deliberations so as to reach consensus and the committee will follow relevant procedure and rules of procedure. We will remain touch with relevant parties on this"
Close Story