It's Delhi but doesn't look like it
The North East Delhi parliamentary constituency, carved out of the East Delhi constituency in 2008, is also home several illegal colonies that have grown on all sides.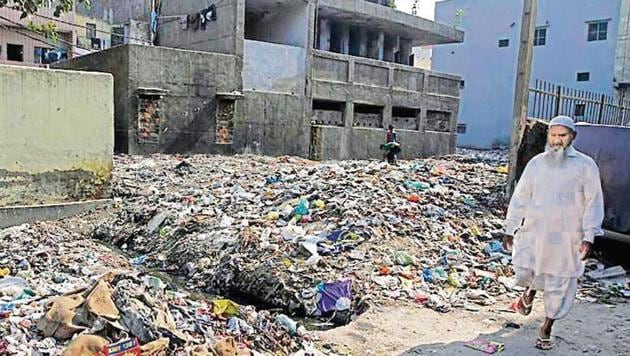 Updated on May 02, 2019 10:06 AM IST
Metro in Delhi started from here, the first line between Shahdara and Tis Hazari. It also boasts of India's first asymmetrical cable-stayed bridge — the Signature Bridge. Yet, it is counted among the least developed areas in the national capital. Thousands of migrants living in congested colonies with little or no basic amenities, slums along open drains, chaotic traffic, crime and everything that a city can do without.
The North East Delhi parliamentary constituency, carved out of the East Delhi constituency in 2008, is also home several illegal colonies that have grown on all sides. Zeeshan Sheikh, a resident of Seelampur, says it like it is: "We might be living in Delhi, the capital of India, but the area we live in does not look like Delhi. Delhi is still a distant dream for us."
Over 70% of the constituency comprises illegal colonies, including Seelampur, Gokulpur, Karawal Nagar, Rohtash Nagar, Ghonda, Burari, and Seemapuri. Some areas have authorised pockets like Yamuna Vihar, Timarpur, and Dilshad Garden. There are few villages such as Mandoli, Kadipur and Chauhan Patti.
As the Metro train on the Red Line chugs along, with the GT Road on its right and a railway line on its left, and enters Seelampur Metro station, all one can see is the expanse of the chaos that the North East Delhi exemplifies. Before delimitation in 2008, the entire East Delhi seat was referred to as 'Jamna Paar' — a term used to describe the backward Delhi. However, after delimitation, East Delhi raced ahead with the area getting a number of new wide roads, underpasses, plush hotels, hospitals — most of which came around the 2010 Commonwealth Games. But the North East benefitted little. Today, around 22.4 lakh people, most of them from lower and middle-income groups call it home.It extends from Seemapuri in the easternmost part of Delhi, where it borders UP, to Burari in the north.
BATTLING FOR THE BASICS
Though they are happy with Metro connectivity, residents say that many other infrastructure projects such as Signature Bridge are only "symbolic developments". Sheikh said, "The government thinks it has developed the North East Delhi by building that Signature Bridge over the dying Yamuna. All these are just symbolic developments."
Seelampur was established to relocate the displaced people after their homes were destroyed in the north and central Delhi during the Emergency (between 1975 and 1977). "More than 40 years have passed but the area is still waiting for a facelift," Sheikh said.
Shabnam Bano, 65, of Mustafabad said she has voted in many elections but it has done little to change her life. "We are still known as jamuna pari (people residing beyond Yamuna river). Even auto drivers refuse to come here from other parts of the city because of the congested and crammed roads. Nobody has addressed our issues," she said.
Public sanitation is another major problem common to several areas such as Seelampur, Shastri Park, Mustafabad, Jafrabad.
Shammi Das, 32, a shopkeeper, Gokulpuri's Amar Colony said their locality immediately needs a "redevelopment plan". Pointing out to an open drain flowing parallel to his house, leaving an unbearable stench in the neighbourhood, he said, "The condition is the same across this constituency. In some places, illegal constructions have left no space between drains and homes."
Other local residents said even though the Pink Line (Majlis Park to Shiv Vihar) has improved Metro connectivity to several areas, the road traffic remained chaotic as ever. Traffic snarls is a major issue for the residents of Geeta Colony, Bhajanpura, Khajoori Khas and Pusta Road. "All political parties promise to build elevated corridors and flyovers but the delivery is very slow. After waiting for over a decade, we have got this Signature Bridge," said Krishna Kumar, a resident of Khajoori Khas.
The Bridge has made life a little easier for Bhajanpura resident Shivam Kumar. "It has cut down travel time by at least 30 minutes. Earlier, it would take one and a half hour to travel between Bhajanpura and Connaught Place," Kumar said. He, however, is not sure who should be given credit for the bridge as all three contenders — the Congress, the BJP and the AAP — are claiming credit for it.
Lack of medical facilities is another major problem. There are only two big government hospitals — Jag Pravesh Chandra Hospital in Shahdara and Guru Teg Bahadur Hospital in Dilshad Garden. "People are poor and can't afford private hospitals. We have no choice," said Shanti Singh, a resident of Gokalpuri.
Yogesh Tyagi is a second-year student at Ambedkar College, in Yamuna Vihar. He said, "We need more colleges. Joblessness among youngsters is high. The government should set up small scale industries and skill centres."
THE VOTER BASE
The population in North East Delhi represents the entire spectrum of caste and community. According to the 2011 Census, North East Delhi is the most populous district in the Capital. The population of the area has grown by 26% since 2001. Today,it has the highest population density in Delhi —36,155 persons per square km.
A senior official in the Delhi election commission said the seat witnessed a population boom between 2001 and 2011 when thousands of migrants, from Uttar Pradesh and Bihar — referred to as Purvanchalis — settled here.
The seat also has 20% Muslim population — the highest across all Lok Sabha segments in Delhi. Majority of this population is concentrated in five assembly constituencies, including Seelampur, Mustafabad and Babarpur.
Locals say the Muslims were traditionally Congress supporters but they shifted to AAP in 2015. The party won 9 of the 10 assembly segments in the seat.
Purvanchalis, however, is the largest chunk of the population at 30%. BJP had fielded Bhojpuri actor and singer Manoj Tiwari to woo the community in 2014 and won the seat. This time too, Tiwari is in the fray. Over the years, the community has gained considerable political clout with all major contenders trying to woo them. The seat also has a sizeable chunk of Dalits (16%) and Brahmins and Vaishyas in pockets of Yamuna Vihar, Dilshad Garden and Timarpur.
CONTEST HEATS UP
The constituency is witnessing one of the most keenly watched contests in Delhi with sitting BJP MP defending his seat against three-time Delhi chief minister Sheila Dikshit of the Congress and Dilip Pandey of AAP.
Dikshit, 81, who is also heading the Congress's Delhi unit, is banking on her long experience in the city's politics. "We have worked a lot for each and every constituency. People love our party. I have no competition from BJP and the AAP," she said. Major development works were carried out in the northeast Delhi areas under the Congress' government.
Tiwari in his campaigns is seeking support in the name of Prime Minister Narendra Modi. "This is not assembly or civic body election and people know that. They will vote for a 'mazboot' (strong) PM on May 12. Also, people know me well and they trust me more than any other candidate here," he said. Tiwari has got a land sanctioned to build the first ever Kendriya Vidyalaya in the constituency.
AAP's Pandey said this time North East Delhi will elect a "local". "The people of North East Delhi have been exploited by heavyweights parachuted by their parties in the last 10 years. This time they have decided to elect a local (Pandey) to represent them in Parliament," he said.
Close Story