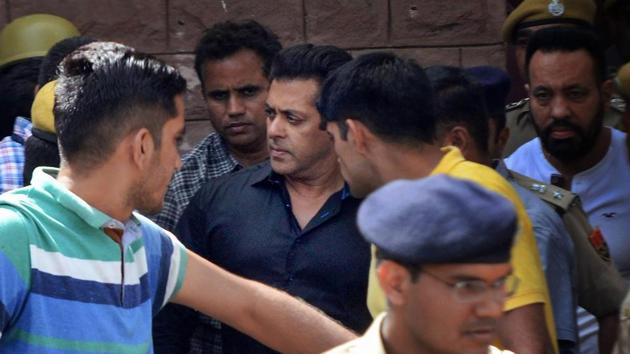 Salman Khan's bail order expected soon, judge hearing case transferred
On Friday, Judge Ravindra Kumar Joshi had reserved the bail plea hearing in the blackbuck poaching case in which Salman has been convicted and sentenced to five years imprisonment.
UPDATED ON APR 07, 2018 02:07 PM IST
The hearing on actor Salman Khan's application for bail and suspension of sentence in the 1998 blackbuck poaching case has been completed and the order will be pronounced after lunch.
District and sessions judge Ravindra Kumar Joshi heard the arguments of prosecution and defence which lasted for about an hour, defence counsel Mahesh Bora said.
Khan's sisters Alvira and Arpita were present during the hearing.
Read | Salman Khan spends second night in Jodhpur jail as he waits for bail, all quiet in Bollywood
In a late night development, Joshi was transferred to Sirohi as part of a reshuffle. However, a sitting judge has seven days to get himself relieved of cases, say legal experts.
Joshi is among 134 judges transferred by the Registrar General of the high court.
Judge Chandra Kumar Songara will be replacing Joshi in Jodhpur's sessions court.
Read | Salman Khan's day in jail sees Preity Zinta visit, a nap and dal-chapatti lunch
The actor, who was on Thursday convicted by a trial court and sentenced to five years in prison in the blackbuck poaching case, has since spent two nights in the Jodhpur Central Jail.
The sessions court Friday reserved its decision on Bollywood superstar Salman Khan's bail plea for Saturday and had called for the records of the case from the trial court.
The district and sessions court heard arguments on the suspension of sentence and bail application before deferring the matter till Saturday.
In another development, Magistrate Dev Kumar Khatri, who had sentenced Khan to five years in jail, has also been replaced by another magistrate. Khatri has been put on awaiting posting orders.
Close