Kerala budget: Cess on fuel, vehicles, liquor
Feb 03, 2023 04:40 PM IST
Finance minister K N Balagopal blamed the Union government for cash-strapped Kerala's financial situation
Finance minister K N Balagopal on Friday said Kerala is strong enough to withstand the Covid-19 impact and natural disasters while blaming the Union government for cash-strapped Kerala's financial situation as he presented the annual budget and introduced new taxes.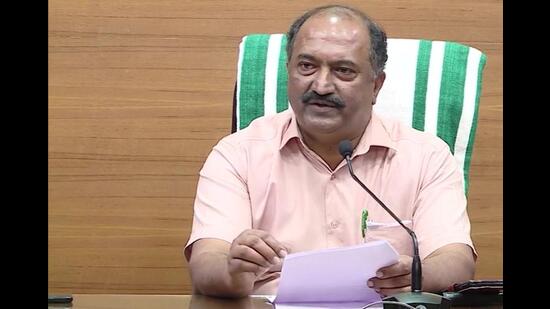 The budget seeks to introduce cess on fuel, new vehicles, and liquor to increase the power tariff for the much-needed revenue. Petrol, diesel, liquor, power, stamp duty, land, and vehicle registration is set to become costlier.
Balagopal proposed ₹2 social security cess on fuel. He said this will be pumped back into the social security sector. He added the new cess on fuel will bring an additional revenue of ₹750 crore and it will be used as a social security seed fund.
Balagopal proposed to levy a ₹20 on every liquor bottle in the price range of ₹500-999. ₹40 will be levied on bottles costing above ₹1000.
Balagopal said the additional taxes will encourage the production of extra-neutral alcohol. He added they will also help generate jobs.
The fair price value of land has been proposed to be increased by 20%. The rent of properties will be based on the value. The court stamp fee has been sought to be raised by 1%. A 2% additional tax is proposed to be levied on motorcycles priced up to ₹2 lakh.
Electricity duty for commercial and industrial sectors has sought to be increased by 5%. Registration fees for cars is set to be increased from 1% to 2%.
Balagopal said the state faces financial constraints but it was not in a debt trap. "Some people spread canards that the state is in deep trouble. Its fundamentals are strong. It is in a position to take more loans. But the Centre's cap and mixing of non-budgetary provisions with the yearly outlay aggravated the situation," he said.
The budget projected a revenue receipt of ₹1.35 lakh crore and an expenditure of 1.76 lakh crore. "The state has been on an upward trajectory in terms of growth. Despite many issues, domestic production increased. Many with vested interests say Kerala lost badly but it has not," he said. He said the state will mobilise revenue collection on a war footing and check expenses to tide over the crisis.
Balagopal said ₹2000 crore has been allocated to check inflation and price rise and ₹2828 crore for health. He promised to make Kerala a global health hub. "With good health infrastructure and care, the state has the potential to become a health hub as health expenditure is going up in many countries. We will also promote health tourism."
₹600 crore has been allotted for rubber subsidy and ₹100 crore to expand the "Make in Kerala" project. ₹80 crore has been proposed to eradicate extreme poverty. Life Mission housing scheme for the needy will get ₹1436 crore.
The opposition Congress criticised the budget saying it will put an extra burden on people. "It is sad that the common person will have to pay for the financial mismanagement of the government. He has not spared any sector. Cess on petroleum products is unreasonable and it will affect all sectors," said Congress leader V D Satheesan.
Bharatiya Janata Party state chief K Surendran said many states are easing tax on fuel but Kerala has increased it again. He added the Union government cannot be blamed for the state's financial mess.
The ruling Communist Party of India (Marxist) called the budget growth oriented, which will give much boost to social sectors.