Longest river cruise docks amid fanfare in Varanasi
Updated on Jan 12, 2023 12:49 PM IST
The Ganga Vilas cruise, operated by Antara Cruises, scheduled to be flagged off by Modi on January 13, will traverse 3,200km through five states in India and parts of Bangladesh over 51 days.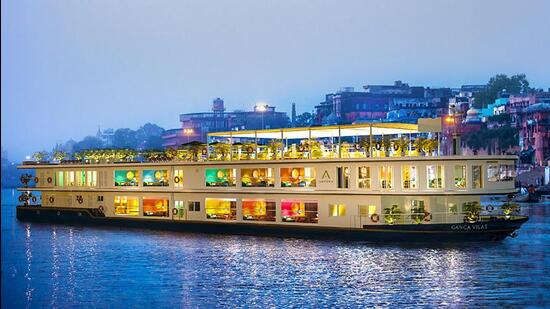 On the banks of the Ganga, Ramnagar is no stranger to foreigners, or domestic tourists. In 2008, UNESCO classified its famous Ramlila as part of the "intangible cultural heritage" of India, and a decade later, Prime Minister Narendra Modi inaugurated the Ramnagar port as part of India's first inland waterway corridor. Still, when the two floor MV Ganga Vilas, described as one of the world's longest river cruises, pulled in to the Ramnagar port on January 10, locals flocked to the banks to see the luxury vessel arrive. Pankaj Chaurasia, a paan shop owner, was furiously clicking photographs with his children. "I have seen such cruises only on TV. It is even bigger than what we imagined. It's like a floating five-star hotel."
The Ganga Vilas cruise, operated by Antara Cruises, scheduled to be flagged off by Modi on January 13, will traverse 3,200km through five states in India and parts of Bangladesh over 51 days. The vessel with three decks is 62 metres wide and 12 metres in breadth. "There have been instances of river cruises spanning distances of around 2,400 km to 2,700 km. But the Ganga Vilas, which is an indigenously built ship and operated by an Indian company, will be the longest river cruise in the world. Besides connecting National Waterway 1 (NW1) that includes Ganga and National Waterway 2 (NW2) on Brahmaputra, the cruise will cross 27 river systems. The service is expected to unlock the huge untapped river cruise potential in the country," Sarbananda Sonowal, Union minister of ports, shipping and waterways said on January 9.
For those in Varanasi who collected on the banks of the Ganga, the vessel's arrival came after a little wait. The MV Ganga Vilas, in its maiden voyage, left Kolkata on December 22 with 32 Swiss tourists on board, and was first meant to reach Varanasi on January 6. Weather conditions and poor visibility meant that it reached Ghazipur, 65km from Varanasi, on January 8. "Due to the delay, they (passengers) checked out on Sunday morning and reached Varanasi the same evening by road. The ship, meanwhile, reached Varanasi on Tuesday," said Priti Srivastava, deputy director of tourism department, Varanasi.
Ramnagar resident Sanjay Majhi said residents of the town were tracking the progress of the vessel closely. "According to newspaper reports, the cruise was to arrive here on January 6. Since then, we had been eagerly waiting for it. Finally, on Tuesday morning, we got to see it. It's hard to describe how majestic it looks. You have to see to believe it," Majhi said. The ship is expected to remain anchored in Ramnagar before it is taken to Varanasi for the flagging-off ceremony.
With a capacity of 80 passengers, Ganga Vilas boasts of 18 luxury suites, and a host of facilities. "Ganga Vilas blends cultural and modern amenities with minimalistic designs and is the definition of a boutique experience on the water. The suites have soothing interiors, furnished with numerous amenities such as French balconies, LED TV's, safes, smoke detectors, and convertible beds," said an official of the UP tourism department.
The cruise ship also has a 40-seater restaurant on the main deck, a spa, and a sun deck. "The upper deck features a bar," a second UP tourism officials said.
Brigitte Reichlin, a Swiss national and one of the 32 guests on board the cruise, said: "Initially, I was planning to take a flight to Varanasi but when I found out about the cruise, I opted for it. I wanted to make my trip to India memorable, and this is a once in a lifetime experience."
After alighting the Ganga Vilas, the first batch of tourists were taken to the tomb of Lord Cornwallis in Ghazipur, the Ganga Aarti at the Dashashwamedh Ghat, and the newly renovated Kashi Vishwanath corridor, said Jitendra Singh, coordinator of the cruise.
Once it is flagged off by the Prime Minister on January 13, the ship will make pit stops at 50 architecturally important places, and pass through Bangladesh. The ship will reach Patna on the eighth day of the journey and pass through Buxar, then to Kolkata, Dhaka and then finally Dibrugarh via Guwahati and Sibsagar. "Tourists will also halt at Sarnath, Kaziranga in Assam, and Majuli, the largest river island in the world in Assam."
Sonowal said that the vessel has a draft of 1.4 metres, can sail in depth of as less as 5 feet, but has two tugboats and dredgers in case it runs into sand. "The Ganga Vilas is part of Prime Minister Narendra Modi's vision of increased and improved connectivity through our rivers, not just for cargo movement, but for passenger cruises as well. This will be a boost for tourism and will also open employments avenues. There's already lot of excitement about Ganga Vilas. The first group of tourists has expressed interest to spread word about it in their country. We expect six more such trips within this year," Sonowal said.
This Republic Day, unlock premium articles at 74% discount
Enjoy Unlimited Digital Access with HT Premium
Topics