Maldives committed to 'India first' policy: Male to New Delhi
The assurance was given by Maldivian foreign minister Mohamed Asim during talks with his Indian counterpart Sushma Swaraj.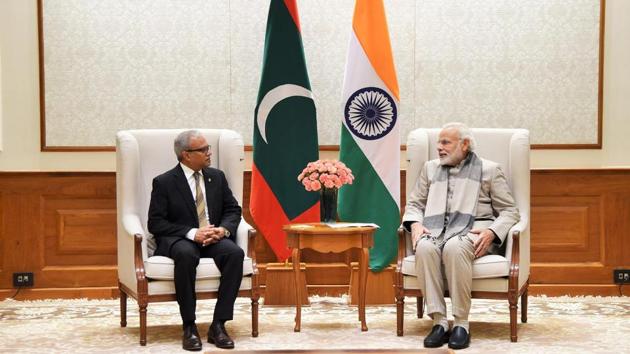 Updated on Jan 11, 2018 11:11 PM IST
Press Trust of India, New Delhi |
Press Trust of India
The Maldives on Thursday assured the Indian leadership of its 'India first policy' -- an affirmation which comes amid chill in bilateral ties over a host of issues, including the signing of an FTA between the Maldives and China.
The assurance was given by Maldivian foreign minister Mohamed Asim during talks with his Indian counterpart Sushma Swaraj.
Asim, also special envoy of the President of the Maldives Abdulla Yameen, called on Prime Minister Narendra Modi and reiterated "the commitment of his government to maintain close relations with India under Maldives' 'India first' policy", an external affairs ministry release said.
Modi affirmed that India would always be a reliable and close neighbour of the Maldives supporting it in its progress and security.
Swaraj also conveyed India's commitment in achieving the full potential of bilateral relationship in line with the government's 'neighbourhood first policy'.
The visit by the Maldivian leader is seen as an effort by Male to assuage concerns of New Delhi following a free trade pact with China after which India had made it clear that it expected that as a close and friendly neighbour, the island nation would be sensitive to its concerns in keeping with its 'India first' policy.
External Affairs Ministry Spokesperson Raveesh Kumar said India was committed to supporting democracy, development and stability in the Maldives.
"We do attach high importance to our reationship with the Maldives. They have a India first policy, we have a neighbourhood first policy. I think it is important for the two countries to work together," he told reporters.
The MEA release said discussions centred around strengthening of the development partnership between the two countries, and enhancing defence and security cooperation.
Asim also reiterated Yameen's invitation to the prime minister to visit the Maldives. Modi conveyed his gratitude for the invitation and agreed to the visit at a suitable time, it said.
During his call on, the special envoy also emphasised that the Maldives attached the highest priority to its ties as close neighbours bound by shared history, culture and maritime interests in the Indian Ocean.
Asim conveyed the greetings of Yameen to the prime minister, which was warmly reciprocated by Modi.
Close Story