Mao pushed Naxals for People's Revolution, encouraged surprise attacks: Scholar
Hindustan Times, Beijing |
Sutirtho Patranobis
May 28, 2017 08:43 PM IST
Archives reveal that a meeting took place in Beijing between Communist Party of China's chairman Mao Zedong and a group of Naxal leaders from India in 1967.
The founder of modern China, the all-powerful Mao Zedong, would have ended the border dispute with India by returning the land south of the McMahon Line if a "people's government" had come to power in New Delhi.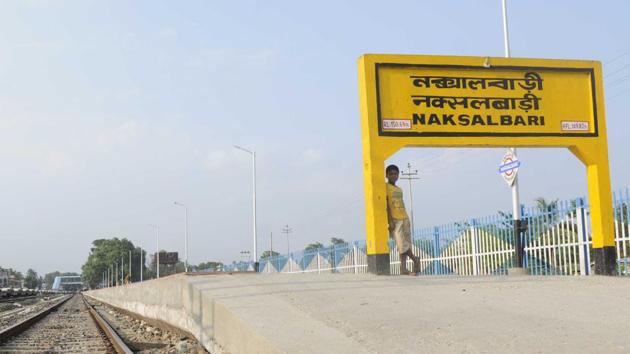 This and many such suggestions were made by the Communist Party of China (CPC) chairman during an 80-minute meeting with a group of Naxal leaders in Beijing in 1967.
Pushing for a "People's Revolution", Mao encouraged the radical Left leaders from India"…to use surprise attacks to seize weapons from policemen, and use superior forces to annihilate a small group of police force at each battle".
This little-known piece of history was shared with HT by Shanghai-based historian Li Danhui who accessed archives to find out what happened during the meeting between the world's most powerful Communist leader and the leaders of a nascent peasant uprising in Naxalbari, a small northern Bengal town, 50 years ago.
India should "rely on workers, farmers to solve the problem... We (The proletariat) do not rely on Gandhi, Nehru… and so on to solve the problem", Mao said during the December 13, 1967 meeting with Naxal leaders, led by Kanu Sanyal.
"They are temporary; only heroes are workers, farmers, they are the leaders of the future."
As the four men -- Sanyal, Dipak Biswas, Khudan Mullick and Khokan Majumdar -- walked down the stairs of the Great Hall of the People on that freezing morning, Mao's words on People's Revolution were ringing in their ears.
Discussing the border conflict, Mao indicated he didn't want the 90,000sq km of disputed land but for the "capitalist and feudal government" in India.
"...Because India was an imperialist, feudalist and bureaucrat capitalist government, thus, China had to fight for every inch of land. China had been using dilatory tactics in dealing with this issue," Li, who is with the East China Norma University, quoted archives as saying.
Mao was talking about the eastern sector of the Indian border.
"When the CPI leftists come to power and establish revolutionary people's government, China would sign a treaty with them and return all the land south of the McMahon Line to them," Mao said.
China's most powerful men -- premier Zhou Enlai, vice-chief of general staff of People's Liberation Army Yang Chengwu and CPC's internal security and intelligence in-charge Kang Sheng were present in the meeting that started sharp at 10:25am.
Brothers in arms
Citing the minutes of the meeting, Li said the Indian group was named the Darjeeling County Committee Study Group. Naxalbari is in Darjeeling district.
Interestingly, records use Majumdar's real name -- Abdul Hamid.
His journey and that of his comrades was arduous, with the last stretch, passing through Tibet, covered on horseback. But once in Beijng, the CPC took them under its wings.
From September 15 to the middle of December, the four men received military training at a PLA base near Beijing.
"The CPI (Communist Party of India) Darjeeling County Committee dispatched trainees to China in turn," Li said.
The Chinese embassy in Nepal advised them on the route to China. At Changping Military School on outskirts of Beijing, they were taught guerrilla war. They also learnt to manufacture ammunition and handle explosives.
Mao welcomed the CPI trainees, who practised military manoeuvres in Tibet.
The Chinese leader's opinion of India and it leaders showed a shift in his policies since 1959. According to Li, by late 1959 and early 1960, Mao viewed Nehru as a reactionary nationalist.
"Nehru, the 'half-man and half-devil', who colluded with imperialists and Soviet revisionists, became the culprit among those anti-China counter-revolutionaries. Thus, when Mao stepped up his left-turning in China's foreign policy in 1962, he was more active in leading world revolutionary movements," Li said.
India and China fought their only war in 1962.
Sanyal, according to Li, told Mao: "The revolution has its ups and downs, moving like a wave, and will have setbacks. We are confident that we will eventually be liberated if we follow the path of Chairman Mao."
Mao's words would have a profound influence on the movement.
"After the Sino-Soviet split, Chinese authority was of great significance in giving Charu Majumdar's faction internationally certified authority," said New Delhi-based historian Dilip Simeon.
Majumdar's account of what came to be known as Naxalbari uprising has had a strong influence on Left's ideology in India
The CPC and Mao's opinion were best expressed in an opinion piece published by the People's Daily, Simeon said.
"A peal of spring thunder has crashed over the land of India. Revolutionary peasants in the Darjeeling area have risen in rebellion. Under the leadership of a revolutionary group of the Indian Communist Party, a red area of rural revolutionary armed struggle has been established in India...," the editorial said.
Exciting news! Mint is now on WhatsApp Channels
Subscribe today by clicking the link and stay updated with the latest financial insights!
Click here!
Get
Latest India News
along with
Latest News
and
Top Headlines
from India and around the world