'Murder of democracy': BJP slams Mamata Banerjee over violence at Amit Shah roadshow
Amit Shah asked people in Bengal's nine Lok Sabha constituencies that are yet to vote to respond to the attack with their vote.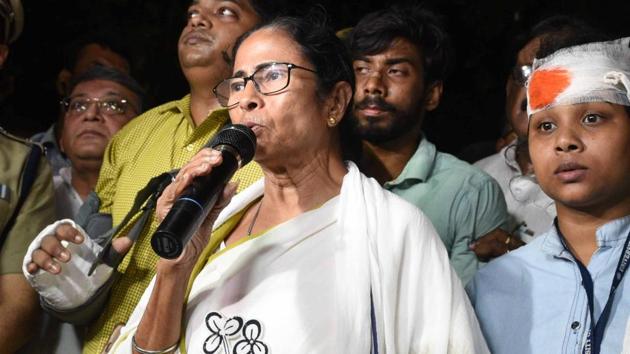 Updated on May 15, 2019 10:22 AM IST
The Bharatiya Janata Party came out in full strength against the violence at party boss Amit Shah's roadshow in Kolkata, blaming Mamata Banerjee's Trinamool Congress for the attack in Bengal and demanding that the Election Commission bar the chief minister from campaigning for instigating her party workers.
The Trinamool Congress has blamed the violence on BJP supporters. "What does Amit Shah think of himself? Is he above everything? Is he God that no one can protest against him?" Mamata Banerjee told reporters after visiting north Kolkata's Vidyasagar College.
The city's education hub of College Street had turned into a battlefield when BJP supporters allegedly clashed with the police in front of Calcutta University and vandalised a bust of iconic social reformer Iswarchandra Vidyasagar in a college set up by him in 1872. The BJP alleges that stones were first thrown at them by Trinamool Congress supporters.
Watch | Blame game between BJP, TMC after clashes at Amit Shah's Kolkata rally
Amit Shah said Trinamool goons attacked the roadshow about 200 metres from where he was near a medical college. Inflammable material was thrown at the roadshow and there was an effort to trigger a stampede, he said.
Shah asked people in Bengal's nine Lok Sabha constituencies that are yet to vote to respond to the attack with their vote. "Writing on the wall is clear and Mamata didi has read it well. Didi, your violence and hooliganism can no more stop the people of Bengal from reclaiming the true legacy of this great land," he tweeted.
In Delhi where a BJP delegation rushed to the Election Commission to complain about the violence, Finance Minister Arun Jaitley tweeted his attack. "Has Bengal acquired a Government of Gangsters? The attack on Amit Shah's peaceful rally by the TMC is deplorable. "Is a free & fair Poll possible in Bengal? All eyes are now on the Election Commission," said Jaitley.
Chief Ministers of BJP-ruled states such as Maharashtra's Devendra Fadnavis and Uttar Pradesh's Yogi Adityanath also punched the Trinamool Congress.
"This is murder of democracy… The way Amit Shah roadshow was attacked and the police responded, I think Mamata Banerjee is so scared that she wants to murder democracy," Fadnavis told news agency ANI.
Yogi Adityanath said the violence was a reflection of the lawlessness in West Bengal under Mamata Banerjee.
Tuesday's incident came in the backdrop of escalating political tension in and around Kolkata where nine seats will go for the polls of May 19, the last and the final phase of the 17th Lok Sabha elections.
While Shah led the road show in Kolkata North, union minister Smriti Irani and senior BJP leader Sunil Deodhar addressed public meetings at Jadavpur and Kolkata South constituencies. TMC supremo Mamata Banerjee addressed three rallies in Kolkata South Lok Sabha.
Close Story