'No BJP leader can walk like this… they get scared': Rahul Gandhi in Kashmir
Jan 30, 2023 04:48 PM IST
Building up on the central theme of the Bharat Jodo Yatra, Gandhi spoke at length against hatred and hit out at the ruling dispensation
Srinagar: Congress leader Rahul Gandhi on Monday accused Prime Minister Narendra Modi, union home minister Amit Shah, RSS and national security advisor (NSA) Ajit Doval—for spreading hate and claimed that they do not understanding people's suffering.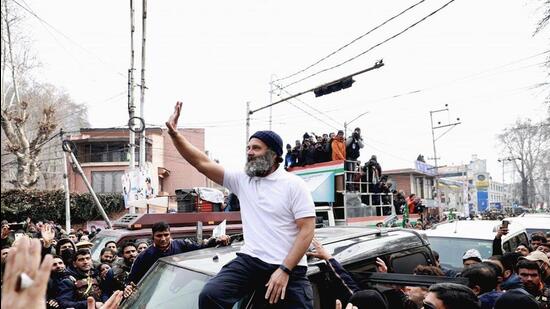 Gandhi recalled how he received phone calls to tell him about the assassination of his grandmother (Indira Gandhi) and father (Rajiv Gandhi) and said that the aim of the Bharat Jodo Yatra is to stop such phone calls to families of security personnel and common people.
Building up on the central theme of the Bharat Jodo Yatra, Gandhi spoke at length against hatred and hit out at the ruling dispensation.
Also Read:People of Jammu and Kashmir opened their hearts and embraced me: Rahul Gandhi
"I know what hatred is, I have seen it. Those who haven't seen, faced hatred such as Modi, Amit Shah, RSS, they get scared. I can guarantee, no BJP leaders can walk like this. Because they get scared."
Recalling his own painful memory of the assassination of late PMs Indira and Rajiv Gandhi, Rahul said, "Those who spread hatred like Modi, Amit Shah, Ajit Doval or RSS, they can't understand pain. But CRPF, the army and people of J&K will understand. I can understand what happens to the children of the army jawans, families of J&K."
In a message to the armed forces and the common people of Kashmir, Rahul spoke about how he was informed over phone about the death of Indira and Rajiv Gandhi, and said, "I know what has happened to the children of the army jawans, families of J&K. The aim of yatra is to ensure these phone calls should stop. That no children, no mother should get such phone calls."
An emotional Gandhi said he was in his geography class when he heard over phone that Indira Gandhi has been shot and years later, in an US college, a similar call came informing him about Rajiv Gandhi's assassination.
Rahul removed an umbrella to brave the heavy snowfall at the Sher-e-Kashmir stadium, put on a pheran over his white t shirt and announced that the Bharat Jodo Yatra was not to benefit the Congress party.
"I didn't do this for the Congress party. I did it for the people of India. Our aim is to stand united against the ideology that is trying to break India," he said.
The Congress leader spoke about his family roots with Kashmir and revealed that "Security guys told me that you can walk freely in entire India including Jammu but in Kashmir, you must take a car. Venugopal (Congress general secretary KC Venugopal) told me the same thing and 3-4 days ago, the local administration said, "if you walk Grenade will be hurled on you".
"I decided I will walk amidst the people. I thought I should give my haters an opportunity to change the colour of my shirt to red. (Mahatma) Gandhi taught me that if you have to live, live without fear. People of J&K didn't throw grenade but opened their heart for me. They treated me as their own," Gandhi said amid applause.
He also revealed, for the first time, why he did use any winterwear in the last few weeks of the yatra.
"I was walking in the morning. It was cold. Four children came to meet me. They were feeling cold and didn't have any winter clothes. I thought, if these children don't wear sweaters and jackets, I too, shouldn't wear this."
The Congress leader said, his knee was in a bad shape during the yatra due to an old injury while playing football but a letter from a girl saying that the yatra is for the future of the children gave him the strength to continue.
Congress president Mallikarjun Kharge hailed Rahul's outreach and attacked the BJP-RSS.
"The RSS-BJP wants to keep poor as poor, and rich as richer. 10% people have looted 72% assets of this country. We will have to fight against this. We call Kashmir as Jannat, but we promise to make J&K into an assembly and statehood."
Congress general secretary Priyanka Gandhi Vadra revealed that when her brother was coming to Kashmir, he sent a message to her and Sonia Gandhi that he has a "unique feeling" of going home.