'No security lapse at all': J&K Police on Rahul Gandhi-led Bharat Jodo Yatra
Jan 27, 2023 05:08 PM IST
Rahul Gandhi held a press briefing soon after the Yatra halted on Friday.
There was no security lapse during the Bharat Jodo Yatra, Jammu and Kashmir Police underlined on Friday soon after Rahul Gandhi stressed at a press briefing that "police arrangements collapsed" amid the Congress's foot march. Apart from Gandhi, several other Congress leaders questioned the administration over the arrangements for the Yatra, which entered the Kashmir Valley on Friday. Former J&K chief minister Omar Abdullah was seen walking alongside Rahul Gandhi.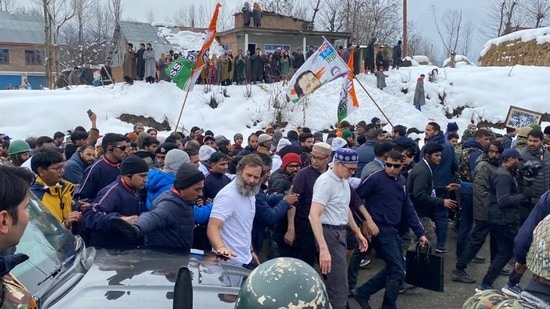 "Only authorised persons as identified by organisers and frisked crowd were allowed inside towards the route of Yatra. Organisers and managers of the Bharat Jodo Yatra did not intimate about large gathering from Banihal joining the Yatra, which thronged near the starting point," the police underlined in a statement. "Full security arrangements were in place, including 15 Coys of CAPFs and 10 Coys of JKP, comprising of ROPs and QRTs, route domination, lateral deployment and SFs were deployed for high-ridge and other deployments."
The Jammu and Kashmir Police "was not consulted before taking any decision on discontinuation of Yatra after conducting 1 km yatra by organizers. Rest of yatra continued peacefully. There was no security lapse at all. We will provide foolproof security," it further read.
The foot march was halted near the Banihal Tunnel in Kashmir, people familiar of the matter said earlier in the day. Congress's communication-in-charge Jairam Ramesh, hitting out at the administration over the "serious security breach", said that Rahul Gandhi was scheduled to cover 16 km till Anantnag but he had to stop after 4 km.
Rahul also spoke to reporters as he said: "This morning, we had a huge crowd that had gathered. But unfortunately, the police arrangement completely collapsed. Cops who had to hold the crowd were nowhere to be seen. So my security people were very much concerned with me continuing. So I had to cancel my walk… while other people continued."
This is the second time that the party has claimed that such an incident has happened during the foot march, which started in September. Earlier the Congress had written to Union Home Minister Amit Shah, alleging a breach in the Bharat Jodo's Delhi leg.