Oppn alleges new bill won't allow states to classify backward castes
Opposition parties have argued that the bill gives the Centre power to declare communities as backward classes after consultation with only a state's governor, a Union government appointee, cutting out state governments from the process.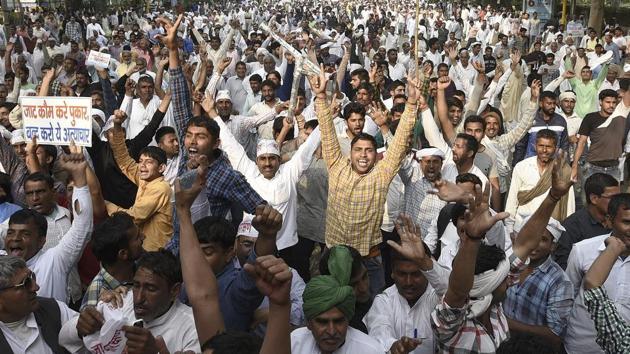 Updated on Apr 07, 2017 01:41 AM IST
Opposition parties are unhappy with certain provisions in a proposed legislation that seeks to provide constitutional backing to the National Commission for Socially and Educationally Backward Classes (NSEBC), saying it will take away the power of the states.
The bill was discussed in the Lok Sabha on Thursday.
Biju Janata Dal (BJD) member Bhartruhari Mahtab called it an "attack on the federal character" of the Constitution.
He said the proposed legislation would give the Centre the right to declare communities as backward classes after consultation with only a state's governor, who is a Union government appointee.
"But that consultation is not mandatory and binding," he said.
Mahtab asked the government to send the bill to a standing committee and try to find a consensus, a demand supported by Congress leader Mallikarjun Kharge.
Fellow Congress leader KC Venugopal said the parties haven't been given sufficient time to move the amendments.
But parliamentary affairs minister Ananth Kumar assured the House that the government had introduced the bill on Thursday to start the discussion and the members could move the amendments till 3pm on Friday.
The bill seeks to give constitutional status to the NCBC, which will allow it to hear grievances of people from other backward classes (OBC) in line with the National Commission for Scheduled Castes (NCSC) and National Commission for Scheduled Tribes (NCST).
A constitutional amendment requires two-thirds approval of both Houses of Parliament and subsequent ratification by 50% of the state assemblies.
Till now, the mandate of the NCBC as a statutory panel was limited to conducting surveys and giving recommendations, which were "ordinarily" binding on the government unless it saw some tenuous reasons to reject those.
The OBCs have demanded a separate entity for them that will be on a par with panels for scheduled castes and scheduled tribes.
The government move follows the BJP's victory in the Uttar Pradesh assembly elections in which the OBCs are said to have played an important role. The move could also address concerns of Jats, who have been demanding OBC status for the community.
But several parties opposed provisions in the proposed legislation.
"By centralising the entire process, the Centre will be denying the states the right to identify castes and provide them benefit," Mahtab said.
"Besides, funds for OBCs are provided by the state governments. Who has given the BJP the authority to decide the fate of OBCs when the Centre is not giving the money?" he asked.
Close Story
Personalise your news feed. Follow trending topics