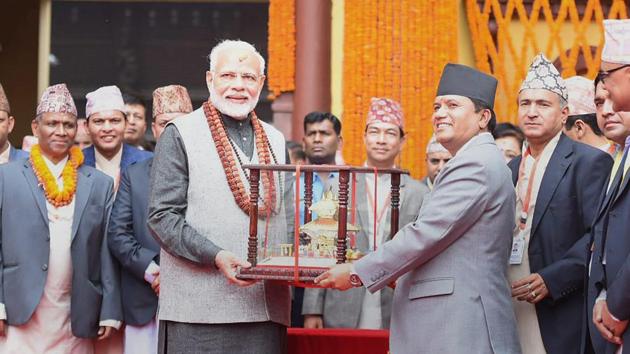 Modi, Nepal PM Oli build trust and rapport, eye greater connectivity and trade
PM Modi also met members of the Nepali Congress, the Communist Party of Nepal - MC and the Rastriya Janata Party - Nepal.
Hindustan Times, Kathmandu | By Anil Giri
UPDATED ON MAY 12, 2018 10:21 PM IST
Prime Minister Narendra Modi's visit to Nepal helped build trust and understanding that will help overcome the lack of trust that characterised bilateral ties following differences over the country's new Constitution, Nepalese officials said on Saturday.
Modi and his Nepalese counterpart KP Sharma Oli built good rapport during their discussions and agreed to resolve all outstanding issues by September 19, which is Nepal's Constitution Day.
When the two leaders met on Friday evening, it was Modi who proposed that the outstanding issues, including the exchange of demonetised Indian notes parked in Nepal's financial institutions, the widening trade gap, various duties imposed by India and sluggish progress in India-funded projects, should be sorted out by September, the officials said.
"This was the first real example that the two prime ministers have built solid trust and understanding," said Bishnu Rimal, the chief adviser to Oli.
India had expressed concerns about the new Constitution, which was adopted in 2015, and a subsequent six-month blockade of the border – which Nepal blamed on India – had hit bilateral ties and deepened mistrust.
Speaking at a civic reception held in Kathmandu on Saturday to honour him, Modi said India will stand shoulder-to-shoulder with Nepal in its development journey.
"You have reached the base camp of Mt Everest and the main climb is yet to begin. The way mountaineers are helped by Sherpas to scale the summit, in the same way, India is ready to work as the Sherpa for Nepal," he added.
Officials said the foreign secretaries will review progress on outstanding issues every week and come up with solutions by September 19.
Though Indian foreign secretary Vijay Gokhale denied there was any discussion on reviving the Saarc process, the joint communiqué noted that Modi and Oli had underscored the importance of regional and sub-regional cooperation under the Bimstec, Saarc and BBIN frameworks.
Apart from visiting religious sites, Modi and Oli focused on effective implementation of bilateral initiatives in agriculture, railway linkages and inland waterways development. They underlined the catalytic role of connectivity in stimulating economic growth and promoting movement of people.
CPN-Maoist Centre leader Pushpa Kamal Dahal "Prachanda", during his meeting with Modi, urged the Indian side to remove its field office in Biratnagar, which Nepal has described as "illegal". This has been at the centre of a row since Kathmandu said New Delhi had not removed the office that was temporally set up to facilitate people during the deadly 2008 floods in the Koshi river.
Prachanda also raised the issue of border management with Modi.
During talks with leaders of Madhes-based parties, Modi advised them to unite and consolidate power to gain more public support, people familiar with the discussions said.
Both Nepal and India described Modi's two-day visit as successful and historic.
Modi tweeted before his departure, "My Nepal visit was historic. It gave me a great opportunity to connect with the wonderful people of Nepal. Talks with PM Oli were productive. New vigour has been added to India-Nepal relations through this visit. Gratitude to the people and Government of Nepal for their warmth."
Nepal's foreign minister Pradeep Gyawali said Modi's visit was successful. Talking to media after seeing off Modi at Tribhuvan International Airport , Gyawali added the visit will strengthen bilateral ties and help concretise past agreements.
Close