Outrage at Pragya Thakur's Godse remark in Lok Sabha
Updated on Nov 28, 2019 02:05 AM IST
The comments by the controversial parliamentarian revived memories of how she described Godse as a "patriot" during the campaign for the 2019 general elections.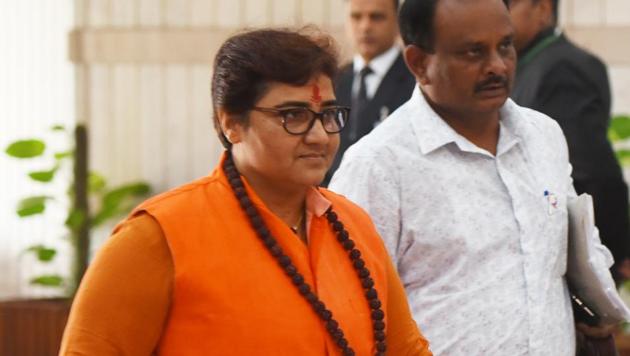 First-time Bharatiya Janata Party (BJP) MP Pragya Thakur created a storm in the Lok Sabha on Wednesday when she referred to Nathuram Godse, the assassin of Mahatma Gandhi,during the debate on the Special Protection Group (Amendment) Bill.
The comments by the controversial parliamentarian revived memories of how she described Godse as a "patriot" during the campaign for the 2019 general elections. Lok Sabha speaker Om Birla expunged her remarks from the House records even as other BJP lawmakers quickly asked Thakur to sit down.
When the SPG bill was being discussed in the Lok Sabha, Dravida Munnetra Kazhagam (DMK) member A Raja cited a statement by Godse on why he killed Mahatma Gandhi. Raja said Godse admitted he had nursed a grudge against Gandhi for 32 years before finally deciding to assassinate him.
At this point, Thakur stood up and spoke out of turn, leading to furious protests by Opposition members. Senior BJP leaders could be seen directing her to sit down and stay silent.
Parliamentary affairs minister Pralhad Joshi told journalists later that Thakur's microphone was not on and she raised an objection when the name of Udham Singh was being taken. "She has even explained this and told it to me personally," Joshi said.
Raja referred to Udham Singh, who assassinated General O'Dyer, the man responsible for the Jallianwala Bagh massacre of 1919, in his speech before Thakur stood up to talk.
When BJP's Satyapal Singh started giving reference of what happened in England and China, a visibly irked Speaker said, "Don't talk about what happens in China or England. You should concentrate on what happens in India."
The Congress party attacked Thakur and tweeted, "Repeatedly referring to Nathuram Godse as a "deshbhakt" is a perfect representation of BJP's deplorable hate politics. Will PM Modi condemn Pragya Thakur's remarks or continue to stay silent?"
Congress leader Randeep Singh Surjewala said: "The country is celebrating the 150th year of Gandhi Jayanti, and BJP MP, Pragya Thakur is glorifying Gandhi's killer Godse as a 'martyr'."
Congress general secretary Priyanka Gandhi Vadra, too, attacked the BJP over Thakur's remark, asking the Prime Minister to speak up about what he really thinks about Godse.
During her poll campaign, Thakur had said "Nathuram Godse was a 'deshbhakt' (patriot), is a 'deshbhakt' and people consider him as a 'deshbhakt'." She had to later apologise to the party for her remarks.
Prime Minister Narendra Modi didn't take her remarks lightly. Within a few days, in a TV interview, Modi underlined that the kind of a language she used could not be tolerated in a civilised society. "She has apologised. That is a different thing. But in my heart, I cannot forgive her," said PM Modi.
"Everything that has been said about Godse and Gandhi is horribly wrong and fit to be hated and criticised. Those who say this should think a 100 times in future," Modi added.
Rashtriya Janata Dal MP Manoj Jha tweeted that he wants to see what action the BJP takes against Thakur. "Let's see @BJP4India 's action in view of what #pragyasinghthakur has said about #Bapu's killer on the floor of the house. The nation cannot live with the ecosystem of #Godsepromoters or else #FatherofTheNation shall himself relinquish d position. Jai Hind (sic)".
In another tweet, Jha said, "You can expunge the remark but how will you expunge the thinking?"
Close Story
Personalise your news feed. Follow trending topics