Shiv Sena's Priyanka Chaturvedi had written to the parliamentary affairs minister last month seeking the introduction of gender neutral terms that she said may seem like a small change, but will "go a long way in giving women their due representation in the parliamentary process".

Published on Sep 21, 2022 09:20 PM IST
The meeting was chaired by party president JP Nadda and home minister Amit Shah, and was attended by at least 30 top leaders who form part of the Lok Sabha Pravas — formed in July this year.

Updated on Sep 07, 2022 05:01 AM IST
JD(U) member Harivansh Narayan Singh has not indicated if he will continue as Rajya Sabha deputy chairman or step down following Nitish Kumar's move to steer his party out of the NDA.

Updated on Aug 11, 2022 07:29 AM IST
Since education is part of the concurrent list in the seventh schedule of the Constitution, junior education minister Annpurna Devi said implementing the policy was primarily the domain of the state governments.

Updated on Aug 09, 2022 01:49 AM IST
The proposed the Electricity (Amendment) Bill, 2022 seeks to strengthen India's power distribution sector, which continued to see high technical and commercial losses of around 21% in 2019-20 against a target of 15%.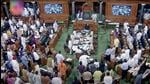 Updated on Aug 09, 2022 01:44 AM IST