Rajnath Singh's hint on 'no first use' change is message to Pakistan
Union defence minister Rajnath Singh hinted on Friday India might change its "no first use" policy for nuclear weapons, introducing a level of ambiguity in a key security doctrine against the backdrop of heightened tensions with Pakistan.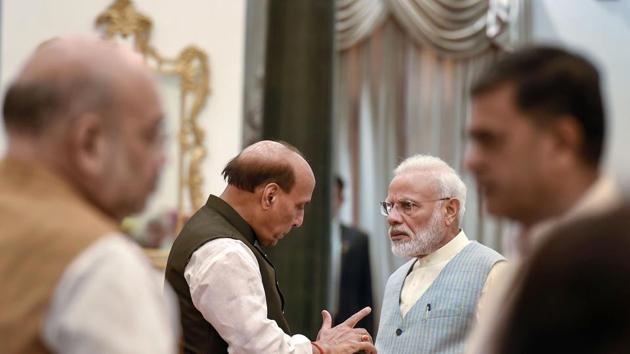 Updated on Jun 16, 2020 02:04 AM IST
Hindustan Times, New Delhi |
Sudhi Ranjan Sen and Rezaul H Laskar
Union defence minister Rajnath Singh hinted on Friday India might change its "no first use" policy for nuclear weapons, introducing a level of ambiguity in a key security doctrine against the backdrop of heightened tensions with Pakistan.
Singh made the announcement at Pokhran – the site of India's nuclear tests in 1974 and 1998 – while paying homage to former premier Atal Bihari Vajpayee, on whose watch India conducted a series of blasts and declared itself a nuclear weapons state. Friday marked the first anniversary of Vajpayee's death.
"Pokhran is the area which witnessed Atal ji's firm resolve to make India a nuclear power and yet remain firmly committed to the doctrine of 'no first use'. India has strictly adhered to this doctrine. What happens in future depends on the circumstances," Singh tweeted.
Soon after the nuclear blasts in 1998, India adopted the "no first use" policy in a bid to address global concerns of an impending nuclear arms race, especially as the Indian tests were followed by tit-for-tat tests by Pakistan.
The promise not to use nuclear weapons first, a policy adopted by several nations including China, addressed the escalation ladder. It also laid to rest apprehensions or misunderstandings about the possible use of nuclear weapons in a conflict.
Also Read: India must revise its nuclear policy and keep its strategy opaque
There was no official word from the defence ministry, though people familiar with developments said Singh's comments did not amount to a change in policy. They, however, noted that security doctrines were not set in stone and had to reflect changing circumstances.
Though there was no immediate response to Singh's remarks from other countries, they created a buzz in diplomatic and political circles, especially as they came in the wake of tensions with Pakistan following New Delhi's decision to scrap Jammu & Kashmir's special status.
Over the past few days, Pakistani leaders, including prime minister Imran Khan, have spoken about the situation in Kashmir leading to terror attacks and even a possible conflict.
The defence minister is part of the Cabinet Committee on Security (CCS) and plays a crucial role in the Strategic Forces Command (SFC), which manages India's nuclear weapons and is the final authority on how and when to use the nuclear option.
Earlier, former defence minister Manohar Parrikar had in 2016 indicated that India should reconsider its nuclear weapons doctrine and introduce an element of unpredictability. "I wonder why we say that we won't use nuclear weapons first," he had said at the time. Subsequently, the defence ministry clarified Parrikar had expressed his own opinion and his remarks did not reflect the official position.
India's nuclear doctrine commits the country to "no first use" but warns of massive retaliation in the event of a nuclear, chemical or biological strike on its soil or on its forces anywhere.
Soon after Singh's tweets on the nuclear issue, it emerged that the external affairs ministry had edited a 2010 speech by former national security adviser Shivshankar Menon on the nuclear doctrine. An earlier version of the speech posted on the ministry's website stated the doctrine emphasised "no first use against non-nuclear weapons states", and this was changed some weeks ago to "no first use and non use against non-nuclear weapon states".
People familiar with developments said the changes were made in the text of the speech because some words were inadvertently dropped, and that these changes were made with the express consent of Menon. The people also said the changes were made some time ago and were not related to Friday's developments.
In 2013, the then chairman of the National Security Advisory Board (NSAB), Shyam Saran, had said, "India will not be the first to use nuclear weapons, but if it is attacked with such weapons, it would engage in nuclear retaliation which will be massive and designed to inflict unacceptable damage on its adversary. The label on a nuclear weapon used for attacking India, strategic or tactical, is irrelevant from the Indian perspective."
Saran's statement was made against the backdrop of Pakistan introducing tactical nuclear weapons for use in the battlefield.
While questions have been raised about the utility of a "no first use" policy, R Chidambaram, who was part of the Pokhran I and II nuclear tests, recently defended the policy. If all nuclear weapons states agreed to no first use, countries would achieve "complete nuclear disarmament," Chidambaram had said on July 17 while delivering the Jasjit Singh Memorial Lecture at the Centre for Air Power Studies.
Vipin Narang, a specialist on nuclear proliferation and strategy at Massachusetts Institute of Technology, responded to Singh's comments by saying, "This has been a long time coming: there has long been discomfort with an absolute no first use policy. If evidence of imminent Pakistani use were clear, what Indian Prime Minister could sit back and allow Indian forces or citizens to be hit and not try to pre-empt?
"Singh is just saying what many, especially China and Pakistan, already believed. The interesting question is, besides pre-emption, which is an obvious carve out, are there other circumstances where India may go first? That would mark a radical shift in Indian nuclear strategy, if so."
Narang also tweeted, "Make no mistake: this is by far the highest official statement – from the Raksha Mantri's mouth directly – that India may not be forever bound by no first use."
Close Story
Personalise your news feed. Follow trending topics