No response from Sartaj Aziz on visa for Kulbhushan Jadhav's mother: Sushma
Sushma Swaraj said the visa application of Kulbhushan Jadhav's mother, who wanted to meet her son in Pakistan, was still pending.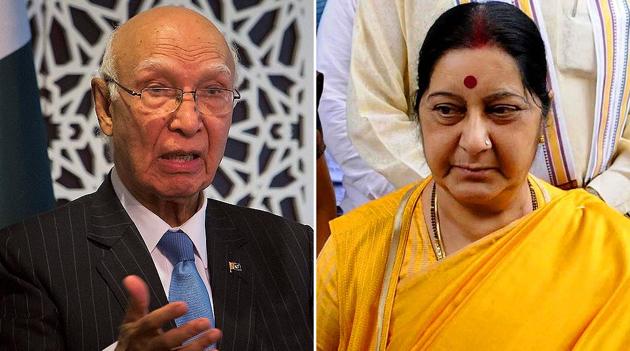 Updated on Jul 11, 2017 12:20 AM IST
External affairs minister Sushma Swaraj on Monday said she was yet to hear from Pakistani counterpart Sartaj Aziz on a letter asking for a visa for the mother of Kulbhushan Jadhav, an Indian naval officer sentenced to death by a military court in that country.
Swaraj said the visa application of Avantika Jadhav who wanted to meet her son in Pakistan was still pending.
The minister tweeted:
The minister is fairly active on Twitter and has come to the rescue of medical visa-seekers, students and Indians tweeting for help on many occasions.
Over the past couple of days, a Pakistani woman suffering from oral cancer has been tweeting, asking for Swaraj to intervene after her visa application was reportedly rejected by the Indian embassy.
"I have my sympathies for all Pakistan nationals seeking medical visa for their treatment in India," Swaraj said, adding Aziz's recommendation were needed for giving medical visa to Pakistan nationals.
"I see no reason why should he hesitate to give his recommendation for nationals of his own country," she tweeted, saying those with recommendation letters would be granted visa immediately.
In May, India said Pakistani nationals seeking urgent medical visa would have to furnish a letter of recommendation by Aziz so as to be sure such requests were genuine.
Many of these requests are made directly to Swaraj on social media and by emails, which makes it difficult for Indian officials to ascertain whether these are authentic.
That decision came in the backdrop of India challenging in the International Court of Justice Pakistan's decision to hang Jadhav.
Close Story
Personalise your news feed. Follow trending topics