Solar scam probe panel report is a pulp literature, says former Kerala CM Oommen Chandy
In an interview with the Hindustan Times Chandy spoke about the scam and his take on the findings of the commission.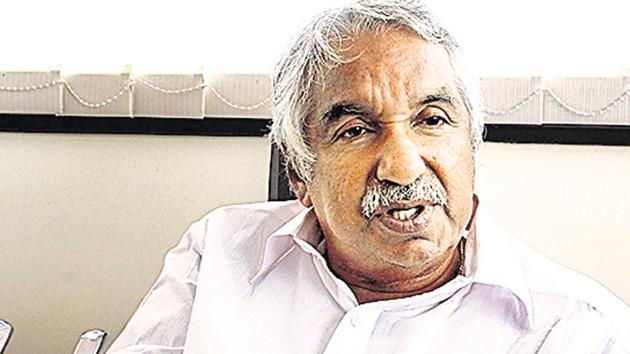 Updated on Nov 12, 2017 01:49 PM IST
Former Kerala chief minister and veteran Congress leader Oommen Chandy is facing the biggest challenge of his five-decade-long political career. He was recently indicted by a judicial commission appointed by him to probe a multi-crore solar panel scam surfaced when he was heading a Congress-led United Democratic Front (UDF) government in the state. Apart from graft, he's also facing sexual gratification charges.
In an interview with the Hindustan Times Chandy, who is known for his humble stature, spoke about the scam and his take on the findings of the commission.
Here are the excerpts from the interview:
Q. Besides corruption, the commission has also raised sexual assault charges against you. What is your comment?
A: See I have been in the midst of people for more than 50 years. Never such allegations were levelled against me. A woman (Saritha Nair, the main accused in the scam), who is involved in more than 30 cheating cases, comes out with a letter…. I think people won't believe it. The commission has parroted what she had said in her letter. There is also some ambiguity in the letter. At least four pages were added to her earlier letter. If you closely examine this letter, it is quite evident that someone has written it for her.
Look in her earlier deposition she never raised any such allegations against me. Once she had even said a senior CPI(M) leader promised her Rs 5 crore to talk against me. How can you take the words of a woman who frequently changes her statement?
If there is some iota of truth in what the commission has said, I am ready to quit public life. It is not solar scam report, it is Saritha report. It is a pulp literature and not a judicial report, and the present government used it to defame me.
Q. How did the solar scam happen? The commission says you know Saritha Nair since 2011?
A: I meet hundreds of people every day. She might have come to me earlier also, but I don't remember her. Everything started in 2013 when her former husband came to me to raise some serious personal problem. He came to me with a recommendation of a party MP. I gave him a patient hearing. I wasn't aware of his/her antecedents. I was there to solve some personal issues, but persons concerned conveniently used me.
Named Lakshmi B Nair then, Saritha came to my office with a proposal for a solar panel business and I forwarded it to concerned ministries.
Later when her real picture emerged, I took strong action against some of my staff members who were soft towards her. And the case against her first husband Bjiu Radhakrsihnan that was hushed up during the earlier regime was fast tracked. He's in jail facing double life-term for murdering his wife. I wish I were more careful in selecting my office staff. I am not there to blame anyone now.
Q. Do you feel your open-door policy led to this sorry state?
A: I don't think so. My life is an open book. My office was 24X7 live (He was the first chief minister of a state to live-stream proceedings of his office). One day when I was in office, a mentally-deranged came and occupied my seat for some time. I still believe that people who know me reject these charges with the contempt they deserve.
Q: Do you think the party backed you enough? The other day you said there were many attempts to pull you down and you faced them well, but once you succumbed to the blackmailing of a person?
A: Yes the party and the UDF is with me. Even a class-two student can make out that these charges were trumped up to defame me. I don't have much political ambition now. I have already announced, I won't hold any position. About the blackmail attempt, time is not ripe to reveal this. Many rumours are doing rounds, but they are false.
Q: What next for you?
A: I will take legal recourse to redress allegations heaped on me. I will remain an ordinary party worker and work with the people. The state government, which is driven by vengeance, can tire me out for some time, but I will come out of these wild charges. What is happening now is a government-sponsored exercise. Some of them don't have the guts to take me on politically, so they are using a con woman to corner me. I am confident truth will prevail.
Close Story