Spy vs spy: India has never sentenced a Pakistani to death for espionage
Updated on Apr 18, 2017 07:18 PM IST
Pakistan's military sentenced a former Indian naval officer, Kulbhushan Jadhav, to death Monday on charges of espionage and sabotage.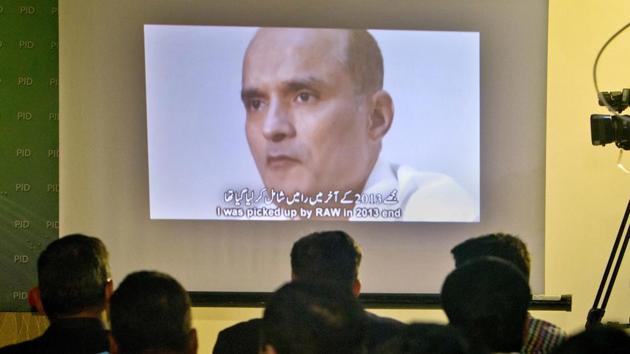 Hindustan Times, New Delhi |
Jayanth Jacob and Rajesh Ahuja
No Pakistani national has ever been sentenced to death in India for spying, officials said on Monday as relations between the neighbours hit a new low after a Pakistani military court awarded death penalty to former Indian navy official Kulbhushan Jadhav.
India retaliated by putting on hold release of around a dozen Pakistani prisoners, who were scheduled to be repatriated on Wednesday.
Several serving and retired officials HT spoke to said they don't recall any Pakistani being sentenced to death by India for spying.
"I don't remember any incident of a Pakistani national who was caught in India and later given the death sentence," a home ministry official said on the condition of anonymity.
"As far as repatriation of Pakistani prisoners is concerned, the time doesn't seem to be ripe for such a move. The process is on hold as of now."
The prisoners were to be released as part of a practice by India and Pakistan to repatriate nationals lodged in each other's jail after they complete their sentences.
In a statement in the Rajya Sabha last year, the government said 46 Pakistani "spies" were arrested across India between the 2013-16.
Retired security also said they were unaware of any of them being given the death penalty.
"I don't recall any such case. In fact, if a Pakistani national is caught spying, the intelligence option is to win him over and make him work as a double agent," said DC Pathak, who retired as chief of Intelligence Bureau (IB).
In a written reply to Parliament recently, junior home minister Kiren Rijiju said more than 250 Pakistani nationals were deported between 2014-2016.
In contrast, Pakistan had executed one Indian national – Sheikh Shamim – in 1999, almost ten years after he was arrested on charges of spying.
Almost a decade-and-half later in 2013, another Indian national Sarabjit Singh, sentenced to death for spying in Pakistan, was killed in jail after being attacked by fellow inmates. He had been on death row for 16 years.
Months later, a Pakistani prisoner was killed by fellow-inmates in Jammu jail, allegedly in retaliation to the killing of Sarabjit, who later became the subject of a Bollywood film.
In between, two other cases had also drawn wide publicity in Pakistan and India.
In 2008, then President Pervez Musharraf pardoned Kashmir Singh, an Indian national convicted of spying and sentenced to death. He returned to Indian after spending 35 years in prison.
Another Indian Ravindra Kaushik, who was also convicted of spying and jailed, died in 2001 after contracting tuberculosis. Most of these cases were tried by civilian courts.
For many in India, an army court sentencing Jadhav to death would stand out in the murky annals of India-Pakistan espionage charges.
Former foreign secretary Lalit Mansingh said that "though Pakistan is not known for having systems that deliver justice, resorting to a military court to sentence Jadhav to death was even clumsier."
"Pakistan authorities didn't have enough evidence to present against Jadhav in a court of low and bringing a military court into play shows their sheer level of desperation, too."
TCA Raghavan, former Indian high commissioner to Pakistan, described the death sentence as a "very peculiar situation".
"How can an Indian national be court-martialed by an army court in Pakistan?" Raghavan told HT. "In the past, when people were accused of spying they were tried in the normal courts and were sentenced".
Uday Bhaskar, director of Society for Policy studies agreed.
"Among many shortcomings in the case, the applicability of Pakistan's field general court martial under the Pakistan army act to Jadhav is a grey area".
Both countries frequently arrest people on charges of spying and in the past have even expelled each other's diplomats on charges of spying.
Pakistani authorities did not say when the sentence would be carried out.
Analysts said that diplomatic manoeuvring, lengthy legal proceedings and the possibility of appeal could mean the case would be contested for years.
Personalise your news feed. Follow trending topics