Chandigarh stalking case: BJP says no political pressure on police, Congress alleges conspiracy
Updated on Aug 07, 2017 06:08 PM IST
Haryana BJP chief's son and one more person have been booked by the Chandigarh Police in a case of stalking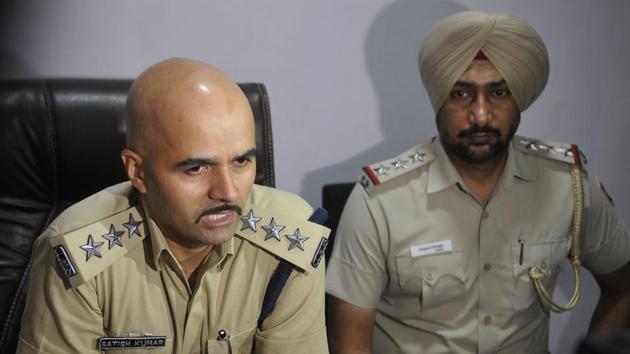 Press Trust of India, Chandigarh/New Delhi |
Press Trust of India
BJP MP Kirron Kher on Monday said Chandigarh police was not facing any political pressure in the woman stalking incident, in which the Haryana BJP chief's son and one more person have been booked, and assured the victim and her family that justice would be done.
She lamented that certain "wild allegations" like the one on CCTV footage going missing were being made and stressed that the law would take its course.
Meanwhile, the Congress accused the Central government and the BJP of "conspiring to hush up" a case against the Haryana BJP chief's son.
AICC media incharge Randeep Surjewala said the Chandigarh Police comes directly under the Union home ministry and they are trying to protect Haryana State BJP president Subhash Barala and his son.
He demanded an answer from Prime Minister Narendra Modi and BJP chief Amit Shah why the BJP leader and his son were being "protected".
He also accused Chandigarh Police DSP Satish Kumar, probing the case, of changing his statement within hours, allegedly at the behest of the Central government.
The Congress leader also asked if the BJP government and the UT Administration answer as to how all those CCTV cameras have stopped functioning and how all the CCTV footage had gone missing.
The victim's father, a senior Haryana IAS officer who had taken to the social media to urge people to fight crime against women, told reporters that he had full faith in the system and was grateful to Chandigarh police for "saving" his daughter's life.
He said he had requested the Home Department immediately after the FIR was lodged that care be taken to secure the CCTV footage.
He also said that "unless somebody from the family (of the accused) is trying to sabotage the investigations and the prosecution, they are not involved in this, we are very clear. We do not hold the family responsible in any way."
His response came as the opposition stepped up demand for resignation of BJP state chief Subhash Barala and criticised the Chandigarh police for not charging his son with kidnapping in the incident.
Kher, the MP from Chandigarh, rubbished claims that the accused were booked under lenient provisions as one of them is related to the state BJP leader.
"The police are under no political pressure, this is absolutely baseless. The Chandigarh police are doing their job as any professional force does," she said
"During police investigation if something else comes up, I am sure police will follow through," Kher said.
The MP said that security will be further strengthened in the city so that such incidents are not repeated.
Asked about reported allegations that CCTV footage was missing, Kher said, "these people who are saying about footage going missing are making wild allegations.
"The police have assured the victim and her family that wherever CCTV cameras are installed and any footage that the cameras would have captured is going to be kept secure."
Assuring the victim and her family that justice would be done, Kher said, "As a mother, I can understand the sentiments of the victim's family at this time. Whatever is legal and correct in this case, will be done."
BJP leader Ramveer Bhatti stokes controversy
Meanwhile, Chandigarh BJP Vice President Ramveer Bhatti drew flak for his reported controversial remarks on the incident.
Asked about a section of media quoting him as saying that girls and women should not go out alone at midnight, Bhatti said, "What I meant to convey is that it is the responsibility of parents to watch over their children and their activities."
"It is a general statement and not directed at the victim. I am saying, be it a boy or a girl, parents should be watching what they are doing. I am not saying that girls should be confined to their homes," he said.
He described the stalking incident as "unfortunate and shameful".
"It is a shameful incident. Whatever happened is unfortunate," Bhatti said.
Bhatti also attacked the Congress leaders, saying why did they remain "silent" in the rape and murder case involving a minor at Kotkhai in Himachal Pradesh.
"See their insensitivity... I am saying that such incidents, wherever these may take place in the country, are highly condemnable," Bhatti said.
However, Bhatti's reported statement that girls should not step out during the night alone did not go down well with his own party colleague Kher.
"I think this is a very unfortunate statement, which reflects the mindset of many men in this country. I think that Bhatti should have exercised restraint and not made this comment," Kher said.
"There are many young girls and women who work late, they work in hospitals as nurses, at call centres, various other places or go out to watch a movie, go to friend's houses, we have to provide them security and safety. We can't put the blame on them why they were out at night, whether it's a boy or a girl, both have equal rights".
Barala's son Vikas(23) and Ashish Kumar (27) were earlier arrested for allegedly stalking the woman here. However, both the accused were released later on bail as they were booked under bailable sections of the IPC and the Motor Vehicles Act.
The incident had come to light when the woman, around 28 years of age, called up the police on Friday night, complaining that two youth were chasing her along a stretch of over five kilometre from Chandigarh right up to a point in the Union Territory, which is adjoining Haryana's border.
Stalking victim, her father vow to continue fight
The victim, who has been interacting with the media after the incident, said on Monday that had she not been the daughter of an IAS officer, things could have ended differently.
"If I had been a village girl, probably I would not have the resources to fight these guys," she said.
However, she also said, "If we (being daughter of IAS officer) don't do it (pursue the case), then who will. Like with my father and his post, if we are not going to do this (pursue the case), then how can we expect others to raise their voices," she said.
At the same time, she also said, "But I have the power of people behind me, never before in my life have I felt so much support."
The victim's father said he had full faith in the investigations. "In all honesty, I must say Chandigarh police have actually saved my daughter's life and I am grateful for that. I have faith in the system and law of this land and I must say that my daughter is alive today because the system works. If the Chandigarh police system of helping out women in distress did not work, it is quite possible that she might not have been alive today," he said.
The IAS officer said that it was an issue of safety of a daughter.
"Had it been a daughter of a labourer being stalked by some petty criminals, will the offence become any less. They are as much citizens of this country as I am or as that boy is," the victim's father told the media.
The IAS officer said that Chandigarh police are carrying out their investigations.
"Wherever I have any concerns, I actually expressed these to the police authorities and they have assured me that they will do the needful. I had requested the Home Department immediately after the FIR was lodged that care be taken to secure CCTV footage," he said.
On the opposition demand that the Haryana BJP chief should resign as he can influence the investigation, the IAS officer said, "I am very clear that both the accused are young men, they are law students and they are fully aware of the consequences of their action. I do not hold their family responsible for their action."
About Bhatti's reported controversial remark, the woman's father said, "that kind of statement is outrageous, but I do not want to join any political debate of any kind, I am an administrator, I am a bureaucrat, I do not want to join the debate."
"At the same time, I want to say that every daughter in the country has the right to live as free and equal citizen and I absolutely stand by that right. There is no way I can support anyone who say that girls should not step out at this time or that time. They have every right to carry out any lawful activity like any other citizen," he said.
The victim's father had taken to the social media and urged people to fight crime against women while sharing the ordeal his family had gone through due to the stalking incident.
Personalise your news feed. Follow trending topics