Highlights: SC refuses to interfere in case of activists' arrested for alleged Maoist links
Sep 28, 2018 01:32 PM IST
The Supreme Court on Friday refused to interfere in the arrest of five rights activists in connection with the Koregaon-Bhima violence case and declined to appoint a SIT for probe into their arrest.In another significant verdict, the apex court paved the way for entry of women of all ages into the Ayyappa temple at Sabarimala in Kerala. Here are the highlights:
11:47 am IST
Supreme Court extends house arrest for four weeks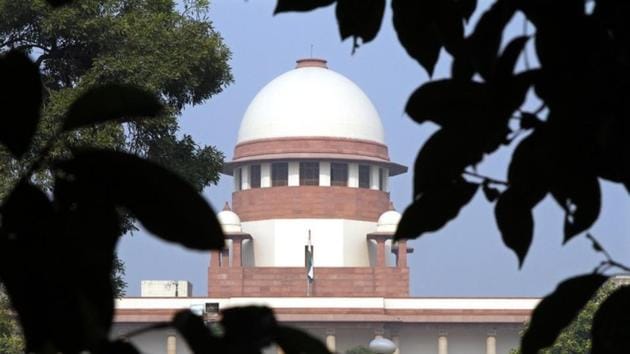 Supreme Court extends house arrest for four weeks of five activists Varavara Rao, Arun Ferreira, Vernon Gonsalves, Sudha Bharadwaj and Gautam Navlakha in Bhima-Koregaon case.
SC refuses to constitute SIT and asks Pune police to go ahead with the probe
11:45 am IST
Court has to be vigilant that liberty is not sacrificed at the altar of dissent: Chandrachud
There is a serious allegation that the case was to quell dissent. Court has to be vigilant in the exercise of its jurisdiction under Article 32 that liberty is not sacrificed at the altar of dissent: Chandrachud
11:41 am IST
Police briefing on case subverts process: Chandrachud
The manner in which police held press conference casts a doubt on the investigation process. It subverts the process. Trial by the media follows such police briefing: Chandrachud
11:38 am IST
Justice Chandrachud starts reading order
Fair and independent and impartial investigation is required. So I disagree with the CJI and Khanwilkar: Chandrachud
11:31 am IST
No relief to the five arrested: CJI on activists
Not a stage to inquire into whether genuine or fabricated. Main accused have already resorted to legal remedies. In view of the above we refrain from dealing with facts: CJI
Any observation by this court at this stage so that no prejudice is caused to the accused, accused can resort to legal remedy as per law: CJI
So no relief to the five arrested: CJI
11:29 am IST
Not case of arrest due to dissent: CJI
Plea of petitioners against lack of evidence against accused has been seriously disputed: CJI
Upon perusal of the material it's not a case of arrest because of dissenting view but concerns with the members of a banned organization: CJI
11:14 am IST
Balance required between principles of equality and freedom to practice: Indu Malhotra
India is a country comprising of diverse religion. Notions of rationality can't be invoked by courts in matters of religion that can't be viewed in isolation, a balance is required to be struck between principles of equality and freedom to practice: Indu Malhotra
Malhotra holds that followers of Lord Ayappa constitute a religious denomination.
11:10 am IST
Lone woman Judge Indu Malhotra begins speaking
Verdict has far reaching ramifications not only for Sabrimala but for all temples. In a secular polity issues that are matters of deep religious faith must not be interfered with by courts: Malhotra
Not for the court to determine which practices of faith are to be struck down except when they are evil, for example Sati: Malhotra
Issue of what constitutes an essential practice is for the religious committee to decide: Judge
11:10 am IST
Exclusion on ground of menstruation is form of untouchability: Chandrachud
The devotees of Lord Ayyappa do not constitute a religious denomination. Exclusionary even if found in religious text is against constitutional morality. Social exclusion of women on ground of menstruation is a form of untouchability which is anathema of Constitutional values: DY Chandrachud
11:05 am IST
Exclusion is based on flawed notion: Chandrachud
Exclusion is based on a flawed notion that women is a weaker sex and can't undertake an arduous task. Since celibacy is foremost requirement for all followers .. such a claim cant be sustained as Constitutionally sustainable: Justice Chandrachud
11:02 am IST
Kerala govt lauds 'historic' verdict
State government lauds verdict, says it is historic.
"It will open floodgates in social justice.it is really historic. Will implement letter and spirit" says Kerala PWD minister G Sudhakaran, adding it is a revolutionary verdict.
11:00 am IST
Verdict disappointing but duty-bound to accept: Sabarimala head priest
Verdict is disappointing but since the highest court of the country ruled we are duty-bound to accept it, says Sabarimala head priest Tantri Rajeevaru Kandarar.
10:58 am IST
Religion cant become cover to deny basic right to worship: DY Chandrachud
Religion cant become a cover to exclude and deny basic right to worship .. nor can physiology be a reason: Chandrachud
To treat women as children of lesser God is a blink on Constitution: Chandrachud
10:55 am IST
Justice DY Chandrachud begins reading his judgment
Article 25 protects the equal entitlement on all persons to freely practice religion: Chandrachud
Morality for purpose of Article 25 .. popular notions of what is not moral may be deeply offensive to individual dignity, dignity can't be subvertive to morality of a mob: Chandrachud
10:50 am IST
Rohinton Fali Nariman begins reading order
Whether sabrimala.temple is a religious denomination.. Devotees of all kinds worship in the temple... Not a denominational worship: Nariman
Women r equally entitled to the right to practice religion: Nariman
10:49 am IST
SC ends ban on entry of women into Sabarimala
Exclusionary practise given support by a subordinate legislation is neither essential nor integral part of religion: Supreme Court
We hold rule 3(b) of 1965 act is ultra vire: SC
10:47 am IST
Rule has to be in harmony with constitution: SC
Religion is way of life to realise one identity with dignity .. but dogmatic practices has resulted in incongruity.
The apex court concludes: In view of the law laid done by this court .. devotees of Lord Ayyappa do not constitute a separate religious denomination. Therefore devotees r exclusively Hindus and do not constitute a separate denomination.
The right guaranteed under Article 25 has nothing to do with gender and physiological factors. Rule violates the right of woman to worship and practise religion: SC
Impugned rule that stipulates exclusion of any entity of women is a clear violation of a woman's right. Rule has to be in harmony with the Constitution: SC
10:45 am IST
Dualistic approach in religions results in lowering dignity of women: SC
SC says, "Law and society are bestowed with Herculean task to act as levellers."
"Any relationship with the almighty is transcendental one."
SC says, "Subversion of women under garb of biological and physiological factors can't be given legitimacy."
10:40 am IST
SC begins reading verdict
CJI Dipak Misra reads first of four set of verdicts in Sabarimala shrine case.
Mankind since time immemorial has been searching for justification for values that hurts morality: Supreme Court
In the theatre of life, man has put autograph and there is no space for woman to even put her signature: SC
10:05 am IST
SC verdict on women's entry in Sabarimala
The Supreme Court verdict is likely to start at 10:30 am.
A five-member constitution bench led by Chief Justice of India Dipak Misra began hearing the case on July 17, making it clear that the ban to the over 800-year old hilltop shrine in Kerala's Pattanamthitta district would be tested on "constitutional ethos"
Topics