Army says 'investigating' deaths of 3 civilians in firing at stone-pelters in Kashmir
Army spokesperson said soldiers were chased by an aggressive and menacing crowd of 400-500 persons, which kept building up and coming dangerously close to troops in Kashmir's Kulgam. A 16-year-old was among those killed on Saturday.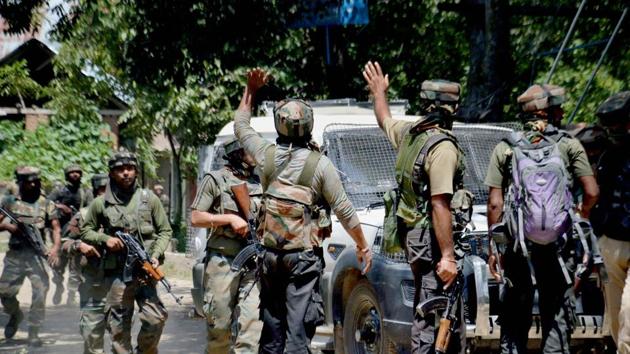 Updated on Jul 08, 2018 12:39 AM IST
Srinagar, Hindustan Times |
Mir Ehsan
Three civilians, including a 16-year-old girl, were killed on Saturday when soldiers opened fire on stone-throwing protesters in South Kashmir's Redwani village as tensions rose in the Valley ahead of the second death anniversary of Hizbul Mujahideen commander Burhan Wani. The incident prompted governor NN Vohra to caution security forces to observe standard operating procedures to avoid civilian casualties.
Army troops entered Redwani, in Kulgam district, to conduct a search operation for suspected militants and beat up a group of young men, angering residents who came out onto the streets and started hurling stones on the soldiers, eyewitnesses said.
"It was around 11.30am when soldiers entered our village and started beating some youth. The villagers tried to stop them by raising slogans and pelted stones. The army directly opened fire that left more than eight villagers injured. Later, three of them died in the hospital," said Mohammad Ashraf, a Redwani resident. "This incident could have been avoided had the army shown some maturity."
A police spokesperson disputed the account and said the security forces were provoked into responding by "miscreants."
A government doctor said the dead included two men aged 20 and 22 years and a 16-year-old girl.
Soon after the incident, Jammu and Kashmir governor NN Vohra convened a high level meeting at Raj Bhavan in Srinagar to review the security situation in the Valley. J&K came under Governor's Rule on June 20, a day after chief minister and People's Democratic Party leader Mehbooba Mufti quit following the pullout of the Bharatiya Janata Party from the coalition government she led.
A spokesperson said the governor had underlined the need for army and other security agencies to follow "the laid-down standard operating procedures (SOPs)" to avoid civilian casualties.
Colonel Rajesh Kalia, a spokesperson for the army, told Hindustan Times that the incident in Redwani was under investigation.
He said an Area Domination Patrol ( ADP) of the army came under heavy stone throwing as it moved into the area.
"As the ADP tried to extricate, they were chased by an aggressive and menacing crowd of 400-500 persons which kept building up and coming dangerously close. Troops, while exercising extreme restraint, cautioned the stone pelters , who, however, failed to relent and repeatedly threw petrol bombs and stones at the patrolling party. At one point of time some unidentified terrorists also fired on the column. This resulted in some soldiers receiving grievous injuries," Kalia said.
" In response to this grave provocation and to ensure security of own troops, controlled firing was resorted to by the Army which resulted in unfortunate loss of human lives. The matter is being investigated to ascertain facts on ground," he added.
The incident took place on the eve of the second anniversary of the death of Wani, the 22-year-old Hizbul Mujahideen commander who was killed by security forces on July 8, 2016, sparking off sustained and widespread protests in Kashmir that have so far claimed the lives of at least 100 civilians, with last year the deadliest in the region in the past decade.
Separatist leaders have called for a shutdown on Sunday to commemorate the death, and officials cut mobile internet services in most parts of Kashmir in an effort to stop coordinated protests.
Mirwaiz Umar Farooq, chairman of the Hurriyat Conference, an umbrella organisation of separatist groups, who is under house arrest, wrote in a Twitter post that security forces had fired "indiscriminately" at protesters and called the incident a "massacre".
The dead were laid to rest late in the afternoon with hundreds of people from neighbouring villagers gathering at Hawoora in Redwani and shouting anti-India slogans. After the incident, protests spread to neighbouring areas in Kulgam and protestors blocked roads at several places.
Close Story
Personalise your news feed. Follow trending topics