Three injured in firecracker accident in Sabarimala: Cops
Jan 03, 2023 12:35 AM IST
Thiruvananthapuram: Three workers of a firecracker unit received minor injuries in Sabarimala hill temple in Kerala on Monday when one of the crackers accidentally went off while filling it, police said
Thiruvananthapuram: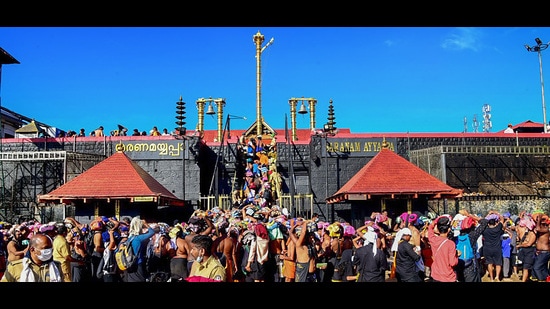 Three workers of a firecracker unit received minor injuries in Sabarimala hill temple in Kerala on Monday when one of the crackers accidentally went off while filling it, police said.
Authorities heaved a sigh of relief as the incident occurred some distance away from the milling crowd of devotees. A temple board official said the mishap occurred near Malikappuram (a small shrine in temple complex) around 5 pm while employees were filling "kathina" (a sort of pyro-technique offering). Injured were later shifted to the base camp hospital in Pambha. State temple affairs minister K Radhakrishnan later sought a report from the temple board.
The temple has been witnessing unusual rush these days. The temple board was forced to restrict the footfall to 90,000 a day after stampede-like situations emerged on a number of occasions. The temple, situated in Periyar tiger reserve in Western Ghat mountain ranges, had witnessed two major stampedes in 1999 and 2011 in which more than 160 people died.